RBC Innovation Challenge: Tech for a Greener Future
October 11, 2022 @ 1:00 pm

-

3:00 pm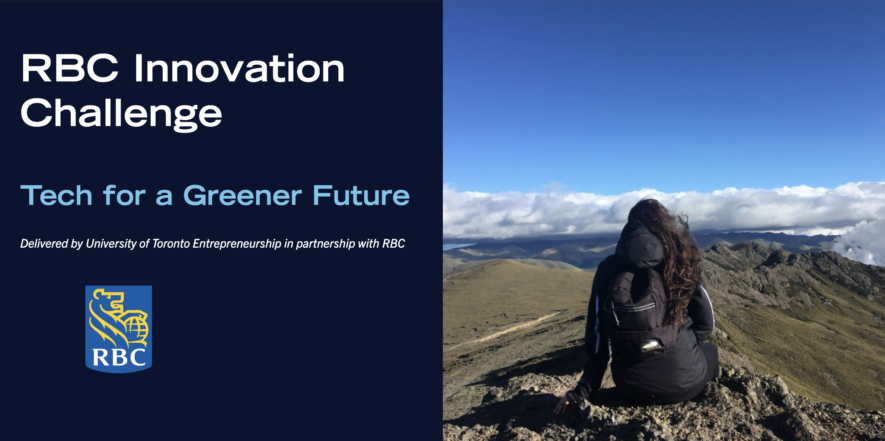 Climate Positive Energy is pleased to announce that we are Delivery Partner for the RBC Innovation Challenge, supported by University of Toronto Entrepreneurship. The Challenge is an annual, university-wide competition that invites multi-disciplinary teams to think big and focus on technology projects with the potential for global impact.
Together with U of T Entrepreneurship, we are calling on students, with support from faculty, staff, alumni, and researchers, to collaborate on multi-disciplinary teams to build innovative world-changing solutions that address the climate crisis and leverage emerging technologies and data to help  Canada reach its 2050 Net Zero targets.
To learn more and get involved, visit: entrepreneurs.utoronto.ca/rbc-innovation-challenge.
More Info
The Innovation Challenge is the latest initiative in a series of RBC partner activity to support U of T's innovation ecosystem that also includes startup pitch competitions, research fellowships, a speaker series, and resources to open the ONRamp co-working and event space.
The projects that emerge from the challenge will be new, and teams can be formed in a myriad of ways – through curricular or co-curricular initiatives (incl. course work, capstones, etc.), via the U of T Entrepreneurship accelerator network, and also out of facilitated meetups and ideation clinics.
Once established, teams will have approx. three months to develop their projects, with support along the way from RBC domain experts, faculty advisors, targeted workshops – culminating in a pitch competition for prizes in late January.
The Challenge, supported by University of Toronto Entrepreneurship (UTE) and Climate Positive Energy (CPE), will be open to all undergraduate and graduate students from across the university and may identify a different theme each year.
The theme for the inaugural RBC Innovation Challenge is: Tech for a Greener Future.