EDI in Action: A Workshop for CPE Scholars
September 28 @ 11:00 am

-

2:00 pm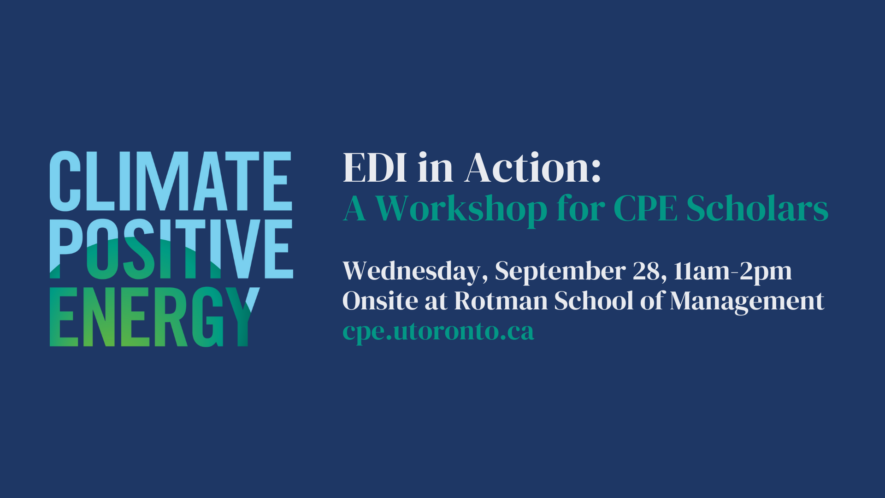 Initially designed for our CPE graduate student network, and now open for all U of T students interested in climate and sustainability fields, this workshop will provide an in-depth overview of equity, diversity, and inclusion (EDI) fundamentals in research. Featuring a panel discussion moderated by CPE member Laura Tozer, an interactive session led by Nicole Kaniki, U of T's first EDI Director, and a keynote address by Julius Lindsay, Director of Sustainable Communities at David Suzuki Foundation. Lunch will be served.
Please note: registration for this event is limited to University of Toronto students.
Meet the Experts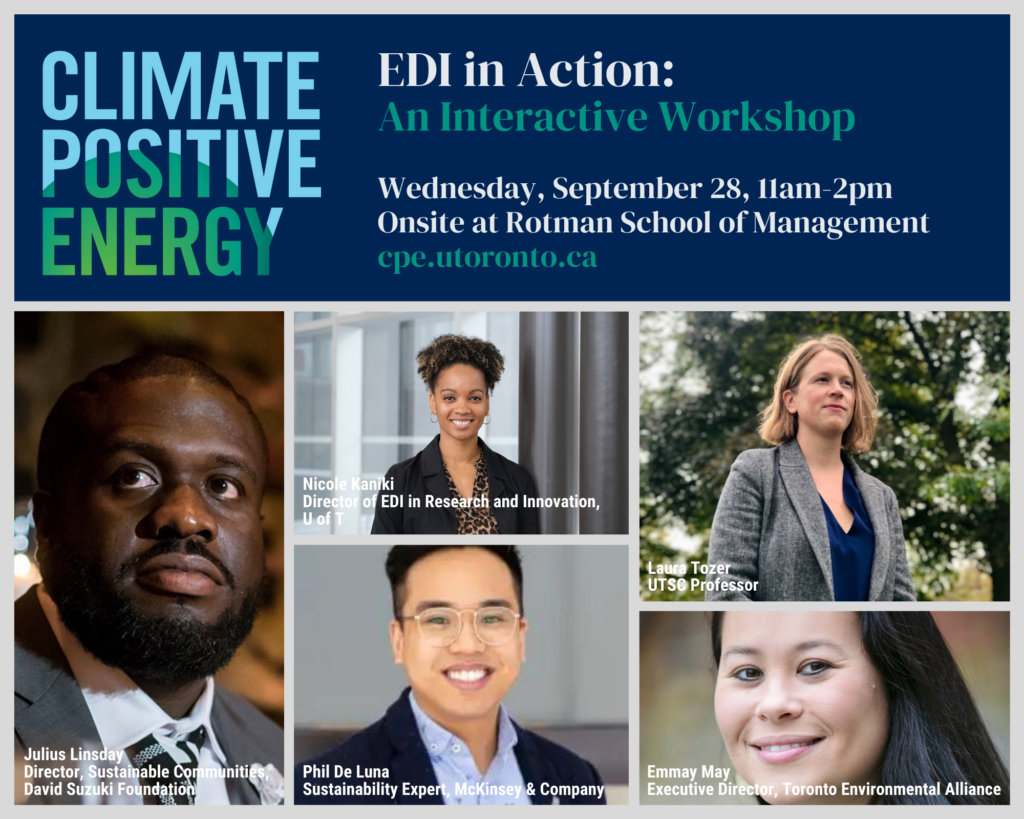 Julius Lindsay, Director, Sustainable Communities, David Suzuki Foundation

Julius holds a H.B.Sc. in physics and mathematics from the University of Toronto. He previously led the development of Mississauga and Richmond Hill's climate change plans. His areas of expertise include city government, public and stakeholder engagement, climate change mitigation and adaptation strategy, policy and program development and implementation, city building and transportation, community energy, energy management, greenhouse gas accounting, climate change risk assessments, sustainability reporting and indicators, human-centred design and strategic foresight. His passions include being a husband and father.
Nicole Kaniki, Director of EDI in Research and Innovation, University of Toronto

Nicole Kaniki is U of T's first director of equity, diversity and inclusion in research and innovation. In the newly created role, Kaniki will examine, advocate and advance EDI in all aspects of U of T research, innovation and entrepreneurship. That includes serving as an adviser and resource to researchers at all levels, leading workshops, developing training programs and contributing to U of T's EDI goals more broadly. Working with stakeholders across the three campuses, Kaniki will focus on institutional commitments to the Dimensions program, integration of EDI principles in large strategic research initiatives and entrepreneurship activities and work at a strategic level to promote EDI in research and innovation within divisional portfolios.
Laura Tozer, Assistant Professor, University of Toronto Scarborough

Laura Tozer's research tries to understand how we can accelerate action to address the climate crisis. She studies the policies and politics that can help us stop using fossil fuels and transition to renewable energy. She's especially interested in understanding how governments and communities can rapidly change cities so that they are fairer, resilient to the impacts of climate change, and powered by renewable energy. She has conducted research on the planning and implementation of just, zero carbon and resilient transitions in cities; the politics of transnational urban climate governance; and pathways to mainstream sustainability solutions so that they become standard practice for urban development.
Phil De Luna, Expert, Sustainability at McKinsey & Company

Phil is currently Expert, Sustainability at McKinsey & Company where he helps solve industry's hardest decarbonization problems. He leads teams and works with executive leaders in corporations, governments, and non-profits to enable sustainable inclusive growth. He was the youngest-ever Director at the National Research Council of Canada, where he built and led a $57M collaborative research program on Canada-made transformative technologies to achieve net-zero emissions by 2050. Phil ran to become a Member of Parliament for the Green Party of Canada in the 2021 Federal Election to bring more science to politics, raising the most money ever for his riding. He has given hundreds of talks, interviews, podcasts, and commentaries on science, climate change, innovation, public policy, and increasing diversity in leadership positions.
Emmay Mah, Executive Director, Toronto Environmental Alliance

Emmay Mah joined the TEA team in 2019 as Executive Director. For the last 15 years, Emmay has worked in the non-profit sector, developing and managing programs focused on child rights and protection, HIV/AIDS, Indigenous health, and the environment. Emmay previously served as a member of TEA's Board of Directors and collaborated with TEA on research and community engagement around climate action. Emmay is a co-founder of the People's Climate Movement in the GTA, and the former Co-Chair of the Toronto Climate Action Network (TCAN). She participated in the City's Modelling Advisory Group for the TransformTO climate strategy. Emmay is passionate about building a diverse and inclusive environmental movement, and a more equitable and sustainable city. As Executive Director, she uses this passion to advance TEA's work building a greener city for all.