Climate Change and Infectious Diseases Speaker Series: Climate Change, Pandemic Risk and Population Health with Amy Greer, University of Guelph
May 25 @ 12:00 pm

-

1:00 pm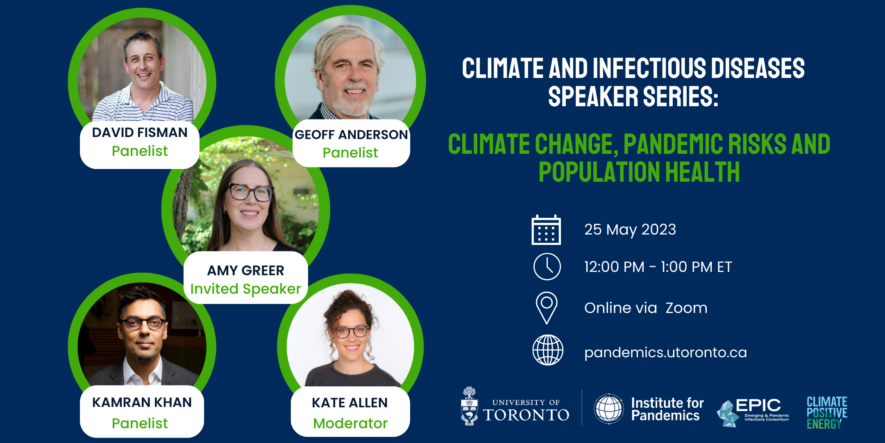 How is climate change shifting and accelerating the spread of infectious diseases around the world? What are some of the impacts on societies, economics, and human and ecological health? Together with the Emerging and Pandemic Infections Consortium (EPIC) and Institute for Pandemics (IfP), Climate Positive Energy (CPE) is pleased to co-host this public speaker series focused on climate change and infectious diseases.
Join Amy Greer for a presentation on climate change, pandemic risks and population health. Dr. Greer, who is an Associate Professor in the Department of Population Medicine at the University of Guelph, will explore the ways in which climate change is impacting the health of communities around the world — including the spread of infectious diseases and risk of future pandemics.
Following the keynote, Professor Greer will join in on an insightful panel discussion with University of Toronto's David Fisman (Professor, Dalla Lana School of Public Health), Geoff Anderson (Professor, Institute for Health Policy, Management & Evaluation), and Unity Health Toronto's Kamran Kahn (Founder & CEO of BlueDot), moderated by Kate Allen, the climate change reporter at The Toronto Star. Learn about the latest research findings and policy initiatives aimed at mitigating the impact of climate change, and discover what you can do to help protect public health.
Details and Registration
About the Organizers
Climate Positive Energy

The Climate Positive Energy Initiative is the University of Toronto's centre for interdisciplinary clean energy research. Climate Positive Energy research teams are developing social, scientific, technical, economic, and policy solutions to transform energy systems, ensure equitable energy access and production, and help Canada become a global clean-energy model. CPE facilitates collaborative research, builds partnerships, promotes knowledge translation, and provides training opportunities for students and faculty. We also support existing sustainable energy and climate change initiatives across the University, including U of T's Climate Positive Plan by 2050. CPE activity extends the University's impact by integrating U of T's various clean energy research and training endeavours with the University's sustainable infrastructure projects.
Emerging Pandemic and Infections Consortium

The Emerging and Pandemic Infections Consortium (EPIC) is a partnership between the University of Toronto and five hospital research partners — The Hospital for Sick Children (SickKids) Research Institute, Lunenfeld-Tanenbaum Research Institute at Sinai Health, Sunnybrook Research Institute, Unity Health Toronto and the University Health Network. Building on our momentum in combating pathogens including SARS-CoV-2, EPIC brings together researchers from different disciplines to facilitate an integrated and innovative response to high-risk, high-burden infectious diseases. EPIC is Canada's leading initiative for transformative infectious diseases research, linking academic researchers with industry and government partners, training the next generation of research leaders and advocating for science-based policies. Together, we will help prevent future pandemics and advance national and global health for decades to come. To join or learn more about EPIC, visit us online at epic.utoronto.ca or follow us on Twitter @UofTEPIC.
Institute for Pandemics

The Institute for Pandemics (IfP) is a University of Toronto Institutional Strategic Initiative supported by the Dalla Lana School of Public Health, Temerty Faculty of Medicine, Faculty of Applied Science and Engineering, Faculty of Arts and Science, Rotman School of Management, University of Toronto Mississauga, and Leslie Dan Faculty of Pharmacy. IfP draws from the University's diverse expertise to incorporate complex skill sets, from epidemiology, mathematical modelling, medicine, evolutionary biology, social sciences, pharmacy, management, engineering, to health economics and many other disciplines to address the multidimensional challenges of pandemics. We emphasize transdisciplinary research and foster cross-disciplinary learning to equip our future health leaders with broad-based knowledge and a holistic approach to tackle pandemics. The Institute seeks to transform pandemic research and training by focusing on three cross-cutting themes: Pandemic Readiness, Pandemic Resilience, and Pandemic Recovery. To join or learn more about IfP, visit pandemics.utoronto.ca or follow us on Twitter @UofT_Pandemics or LinkedIn.
About the series
Through intimate and informative discussions with experts, the Climate Change and Infectious Diseases Speaker Series will focus on the effects of climate change on infectious disease burden, future pandemics and the risk to people living in Canada and abroad. The events will also highlight research advances and approaches that address this growing global public health threat. Tune in to learn more about the relationship between climate change and infectious diseases, and how you can take action through advocacy and further engagement.
Save the date for future events
June 27, 2023, 12–1pm: Impact of Climate Change on the Emergence of Pathogens in New Places with Samira Mubareka, Sunnybrook Research Institute
Information subject to change.