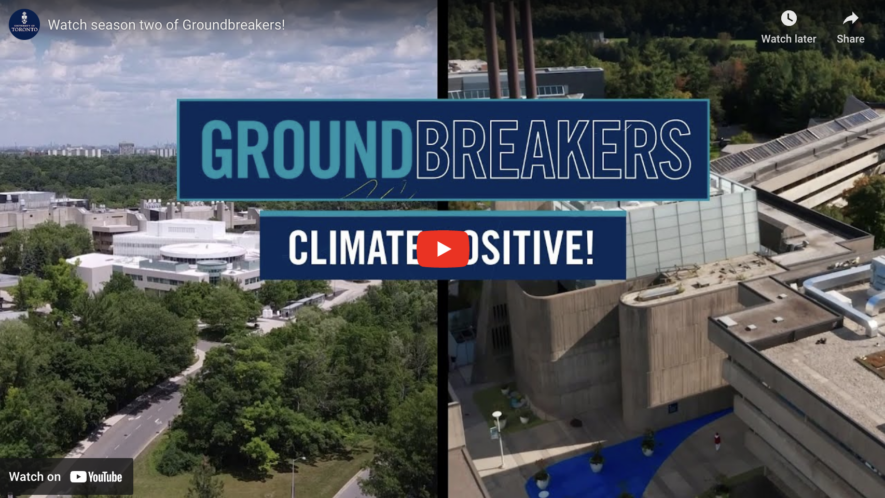 Self-driving vehicles. Renewable energy storage. Advanced materials and molecules. Experts at the University of Toronto are leading the way in all three areas – and more – as they work to address one of the biggest and most complex challenges facing the planet: a changing climate.
Their creative and cutting-edge work is part of the Climate Positive Energy strategic initiative. It's one of several cross-disciplinary collaborations at U of T that aim is to tackle the most pressing problems of our time – and is highlighted in the Season 2 premiere of the Groundbreakers video series, released Sept. 27.
"What excites me about the strategic initiatives are the people behind these large research networks that are bringing together diverse communities to solve the world's grand challenges," Timothy Chan, U of T's associate vice-president and vice-provost strategic initiatives, says in the video.
The premiere episode offers a behind-the-scenes glimpse at how researchers are tackling climate change and renewable energy challenges from scientific, social, economic and policy perspectives. They include: David Sinton, director of the Climate Positive Energy strategic initiative and a professor in the department of mechanical and industrial engineering; Celine Xiao, a PhD candidate in the Sinton Lab and co-founder of the E-Quester carbon capture team; and Kate Neville, CPE member and associate professor in the department of political science and School of the Environment in the Faculty of Arts & Science.
Groundbreakers is a multimedia series that also includes articles on U of T News.