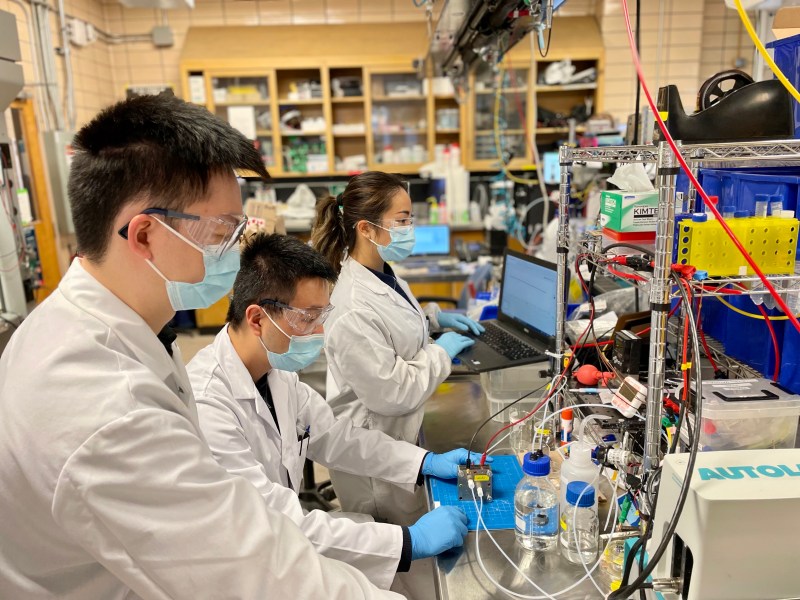 New technology for direct air CO2 capture has earned a U of T Engineering team us $250,000 in seed funding from the XPRIZE Carbon Removal Student Award. This funding will fund further development of the team's laboratory scale breakthroughs to the next stage of the competition, and a shot at the $50-million grand prize.
The team, known as E-quester, is led by Celine Xiao (MIE PhD candidate) and Shijie Liu (MIE MASc candidate). Project mentor Yi (Sheldon) Xu and graduate students Rui Kai (Ray) Miao and Colin O'Brien make up the rest of the E-quester team. The group is advised by Professor David Sinton, academic lead of Climate Positive Energy, Professor Ted Sargent, Christine Gabardo and Alex Ip.
The team is utilizing an electrochemical process to lower the energy cost of capturing atmospheric CO2, by eliminating the need for large amounts of heat in the process. Since the technology is powered only by electricity, it can be fully renewable. Learn more about E-quester's innovative technology in the video below, and read more about the team on their website. Read more about their story on the University of Toronto Engineering News site.