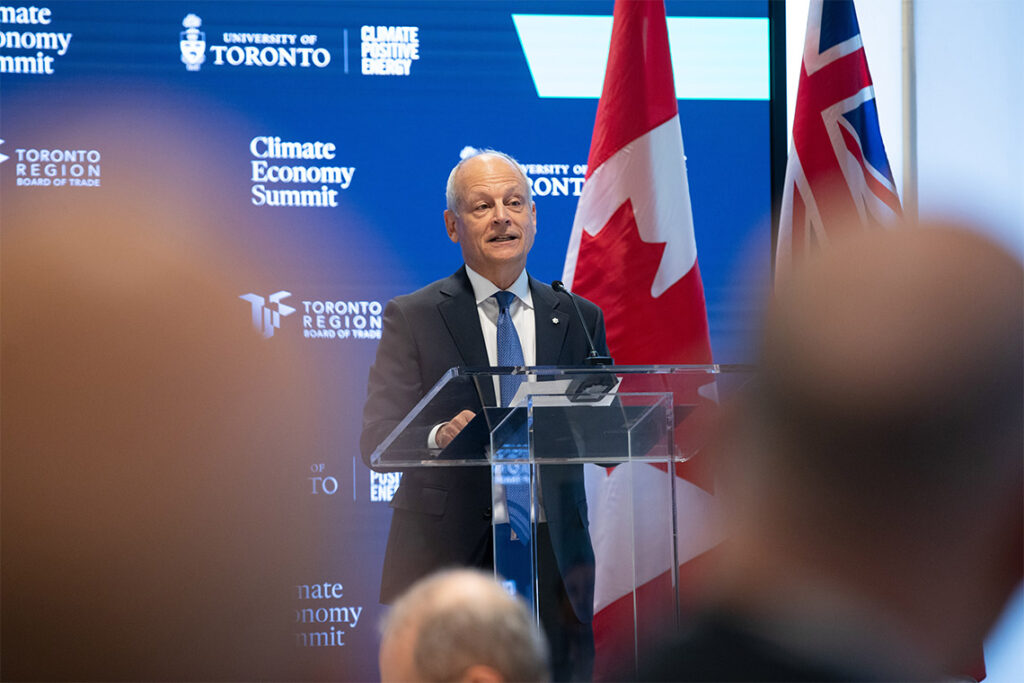 Partnerships between the public and private sectors are crucial to help the Toronto region capitalize on its strong cluster of clean energy companies, University of Toronto President Meric Gertler says.
He issued the call for collaboration at the recent Climate Economy Summit, co-hosted by U of T's Climate Positive Energy initiative and the Toronto Region Board of Trade, which brought together business leaders and experts to discuss the challenges – and opportunities – of investing in a sustainable future.
Home to Canada's largest cluster of clean-tech firms, the Toronto region is positioned to become a leading centre of sustainable growth, President Gertler said in his opening remarks.
But it will take a concerted effort to unlock this potential, he said, urging governments, public institutions, not-for-profits and private firms to work together to find homegrown solutions to the global climate crisis.
"U of T and its partners are collaborating to move the needle quickly," said President Gertler.
"In the face of barriers to progress at the international level, it's important to be reminded that progress at home is possible."
For example, the university is set to receive $56 million in financing from the Canadian Infrastructure Bank (CIB) to advance the university's plan to reduce more emissions than it emits on the St. George campus by 2050. The plan, which includes building Canada's largest urban geoexchange system under King's College Circle, is just one of the ways the university prioritizes sustainability initiatives across its three campuses, with ongoing initiatives at U of T Mississauga and U of T Scarborough.
In particular, the CIB partnership will support sustainable infrastructure initiatives under Project LEAP, including deep energy retrofits for university buildings and labs, and the installation of energy-storage solutions.
U of T – recently ranked second in the world in the inaugural QS Sustainability Ranking – has leveraged this federal financing to secure an additional $70 million in loans from the private sector on very attractive terms, said President Gertler.
He said these investments will accelerate the university's progress towards its climate targets by a decade, with emissions projected to drop by nearly 60 per cent before 2030.
Moreover, he said, U of T will continue to tap into the expertise of its researchers at the Climate Positive Energy Initiative, launched earlier this year. The institutional strategic initiative brings together researchers from across disciplines to devise clean-energy solutions that are guided by political, human and societal considerations.
Their work could help Canada address competitive pressures that are emerging and being closely watched by the federal government. This month, the Standing Committee on International Trade is studying how the U.S. Inflation Reduction Act, which invests US$369 billion in supporting clean energy, will impact the development of Canada's clean-tech industry.
Some of the faculty members involved in the Climate Positive Energy initiative shared their insights at the summit, including academic lead David Sinton, a professor of mechanical engineering in the Faculty of Applied Science & Engineering and Canada Research Chair in microfluidics and energy.
Among the other U of T speakers at the summit were: Ali Hooshyar, an assistant professor in the Edward S. Rogers Sr. department of electrical and computer engineering and Canada Research Chair in electric power systems; and Shoshanna Saxe, an associate professor in the department of civil and mineral engineering and Canada Research Chair in Sustainable Infrastructure.
Hooshyar is leading a proposed $20-million grid modernization testing and simulation centre. The proposed centre would be the first of its kind in Canada, convening stakeholders in the electricity sector to accelerate the integration of renewable energy solutions, energy storage and electric vehicle charging infrastructure into the grid.
Saxe, for her part, told a panel that the goal of retrofitting buildings toward net-zero emissions is well within reach – but that the greatest impediment North America faces is a "deficit of imagination" about how to develop infrastructure for a sustainable society. "Our emission goals are totally achievable. We just have to be willing to achieve them," said Saxe. "The tools are waiting there for us to grab them."
Representing the Ontario government at the summit were Energy Minister Todd Smith, who spoke about how the province is championing energy innovation, and Vic Fedeli, minister of economic development, job creation and trade, who spoke about how Ontario's auto sector is shifting to electric vehicles.
On the eve of the event, Joseph Heath, a professor in U of T's department of philosophy in the Faculty of Arts & Science, made the case for optimism about the potential of innovation to address climate change, suggesting that with the right policy incentives, the next energy revolution could be on the horizon. "A lot of environmental pessimism looks as though it has a grounding in science. Whereas, in fact, what it really is when you scratch the surface is pessimism about human ingenuity," said Heath.
The Toronto summit came on the heels of the United Nation's COP27 climate conference in Egypt, where U of T helped co-ordinate a meeting of university networks that collectively represent more than 900 institutions.
Kristy Faccer, director of the President's Committee on the Environment, Climate Change & Sustainability, said this "network of networks" facilitates the exchange of knowledge among academic institutions in order to amplify sustainable innovation on a global scale.
"What we're really interested in is collective impact," Faccer told a side panel convened by the U7+ Alliance of World Universities. "You can imagine the kind of scaling opportunity and the influence that these networks can have."