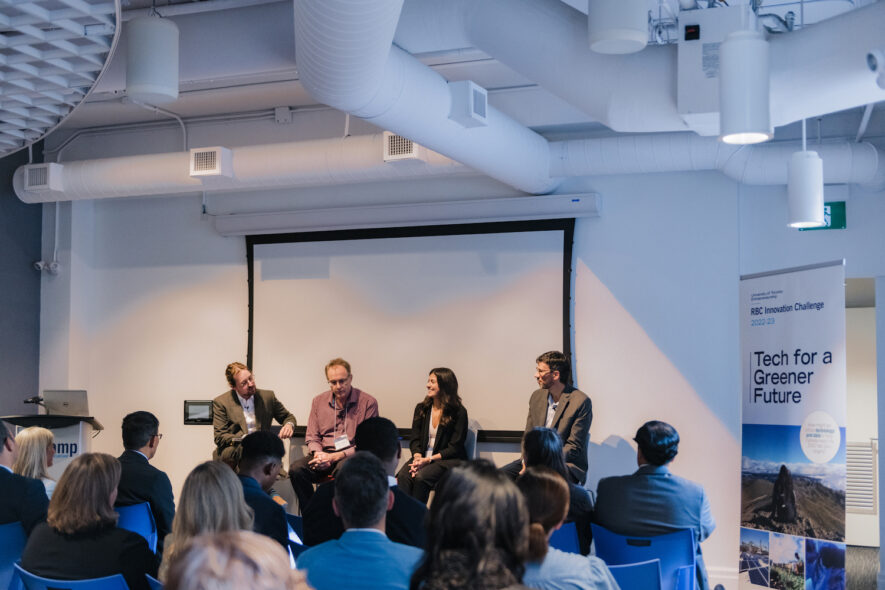 On October 11, Climate Positive Energy was pleased to join leaders from University of Toronto Entrepreneurship and RBC for the RBC Innovation Challenge Launch Event at ONRamp. The Challenge, delivered by University of Toronto Entrepreneurship (UTE), is open to all undergraduate and graduate students from across the university. The theme for the inaugural RBC Innovation Challenge 2022 is Tech for a Greener Future. Climate Positive Energy is pleased to support this year's challenge as a Delivery Partner, championing U of T students across different disciplines to work together and address the climate challenge.
The Launch Event opened with an awards ceremony for four University of Toronto 3rd year students – studying electrical engineering, physiology, computer science, engineering science, geographic information systems, sustainability and business – who received the inaugural RBC Scholarships for Diversity and Innovation in Technology. The scholarships recognize and support undergraduate students who are from equity-deserving groups and interested in emerging technologies.
The Launch Event continued with remarks from RBC leadership along with Professor Christopher Yip, Dean, Faculty of Applied Science & Engineering, and Professor Melanie Woodin, Dean, Faculty of Arts & Science, who both shared the importance of cross-faculty collaboration in innovation and entrepreneurship activity.
Following an overview of the RBC Climate Plan, experts from both RBC and U of T offered insights during the Disruptors Panel, themed on "Challenges, Trends and Opportunities for a Greener Future." Among the panelists was Professor David Sinton, CPE Academic Lead, who emphasized the importance of an "all hands on deck" approach to addressing the climate challenge: "Universities play an important role in furthering entrepreneurial and innovation activity," said Professor Sinton during the panel. "There is an ecosystem of growing startups out of universities, with initiatives like Climate Positive Energy allowing for students and researchers to develop transformative technologies that have the potential to change the future."
The panel closed out with thoughts on how to get going from Christine Gabardo, Co-Founder and Director of Technology, CERT Systems: "Look at what's causing the most emissions, and see how you can get into that space."
For more information on the RBC Innovation Challenge and ways to get involved, visit: entrepreneurs.utoronto.ca/rbc-innovation-challenge.