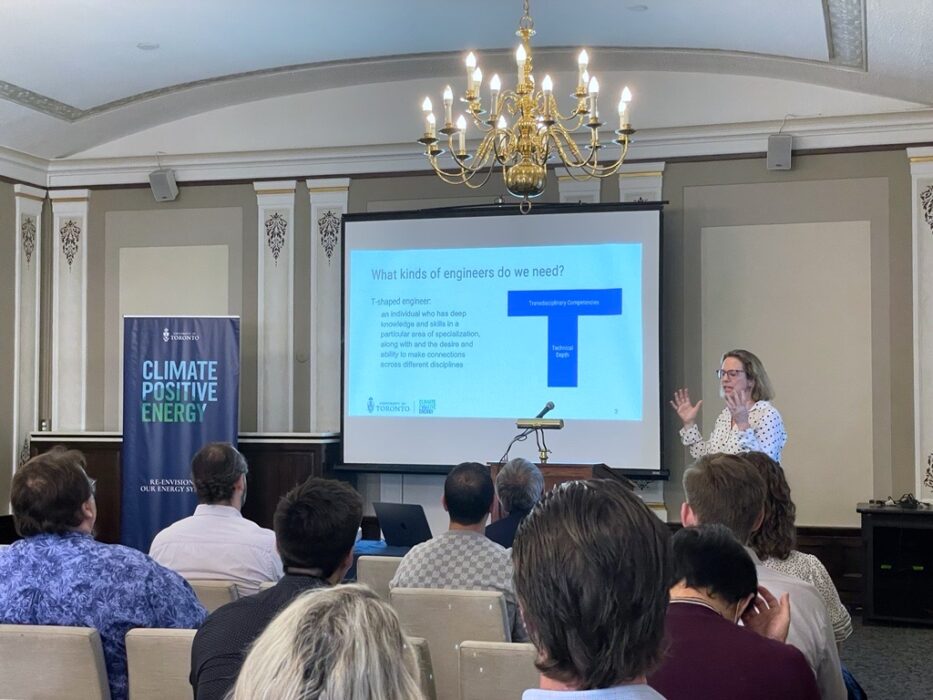 On October 24, Climate Positive Energy hosted a network of energy industry professionals to join us on campus as part of a monthly session for the Energy Leaders Consortium (ELC), a flagship program by Partners in project Green. Nearly 40 leaders from across the ELC member joined experts from University of Toronto to hear about the university's newest research projects and infrastructure updates to support a climate positive campus by 2050.
The Energy Leaders Consortium brings together a dynamic network of energy professionals to share best practices and support collective action on energy projects. Members benefit from a collaborative environment where they can learn about new technologies, share innovative approaches, troubleshoot project challenges, and identify strategies to enhance their energy efficiency.
CPE invited various U of T leaders in sustainability to participate and introduce their work to the network members. U of T's Ron Saporta and Scott Henderson opened the meeting with an engaging presentation on decarbonization and net-zero activity at the university, including U of T's commitment to making the St. George campus climate positive by reducing more greenhouse gases than we emit. The discussion triggered a high amount of interest to try to understand the U of T experience in light of Project LEAP and lessons learned. Following remarks from Matt Brunette, Program Manager at Partners in Project Green, four CPE researchers provided exclusive project updates on grid resilience and the importance of the proposed grid testing and simulation centre at the U of T in accelerating the transition to a decarbonized grid, transforming engineering education at U of T, intelligent and interactive buildings to reduce energy, and carbon utilization through transforming CO2 into value. These presentations sparked exciting discussions from the group on mutual challenges and strategic solutions – as well as opportunities for collective action.
Thank you to Ron Saporta and his team; to CPE members Ali Hooshyar, Emily Moore, Seungjae Lee, and Jonathan Edwards for sharing their research; and to our partners and attendees for their continued engagement and interest. We look forward to welcoming you back for future CPE events!