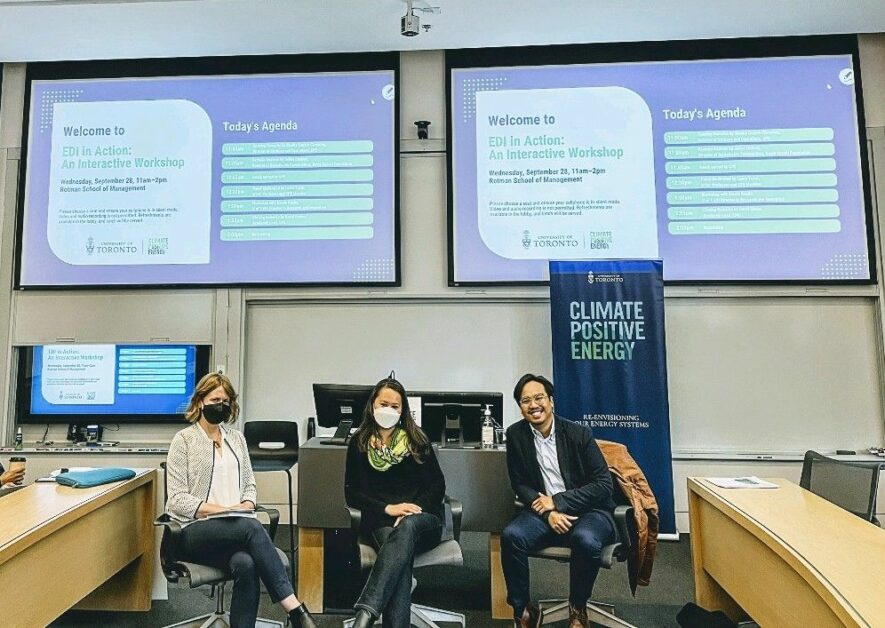 On Wednesday, September 28, Climate Positive Energy hosted EDI In Action, the group's first hands-on workshop dedicated to equipping University of Toronto students with important ideas and skills themed around equity, diversity, and inclusion in research. The half-day workshop opened with a keynote by Julius Lindsay, Director of Sustainable Communities at David Suzuki Foundation, and accomplished U of T alumni).
Julius offered important insights on designing sustainable communities, and equity entering the climate conversation. "How can we be equitable in the transition to a Low-Carbon Resilient Future? How can we be equitable in engaging others in the transition?" Julius shared that when conducting research, simply going to people alone isn't enough. "You need to hear from them, too. And then, you need to do what the people want you do. And, don't do it alone."
Focusing efforts when it comes to EDI and climate work was one of the topics that carried through in an engaging panel discussion following the keynote. CPE member and UTSC professor Laura Tozer moderated the discussion between panelists Phil De Luna, Sustainability Expert at McKinsey & Company, and Emmay Mah, Executive Director of the Toronto Environmental Alliance. The panelists discussed ideas around how climate action and research can benefit historically marginalized and structurally disadvantaged communities, as well as what researchers must do different in their practices and support structures moving forward to improve EDI outcomes.
Nicole Kaniki, U of T's Director of EDI in Research and Innovation, expanded on earlier discussions centred on understanding the history and impact of EDI in research. Nicole shared important insights on assumptions and implications of EDI in research: "There are many ways you can frame a research question, and it is the very framing of the research question that can cause harm or perpetuate racial stereotypes or biases." Nicole also shared key steps and on embedding EDI best practices into research data and data analysis, as well as EDI issues in climate research.
"Part of being a transformative leader and effective researcher is knowing about and supporting critical conversations and topics like privilege, racism, and indigeneity," she added. "What are you doing, for example, to recognize the National Day for Truth and Reconciliation?"
To help our students answer that question — and to help inform their knowledge and learning beyond the workshop, including some of the conversations that occur in labs and classrooms — CPE was pleased to share with each attendee a non-fiction or historical fiction book, authored by indigenous Canadians, to read ahead and beyond the National Day of Truth and Reconciliation, observed on September 30. Also known as Orange Shirt Day, the national day of observation honours the survivors of residential schools and invites reflection on Canada's treatment of indigenous peoples.
Thank you to our speakers and attendees for the important conversations during this event.