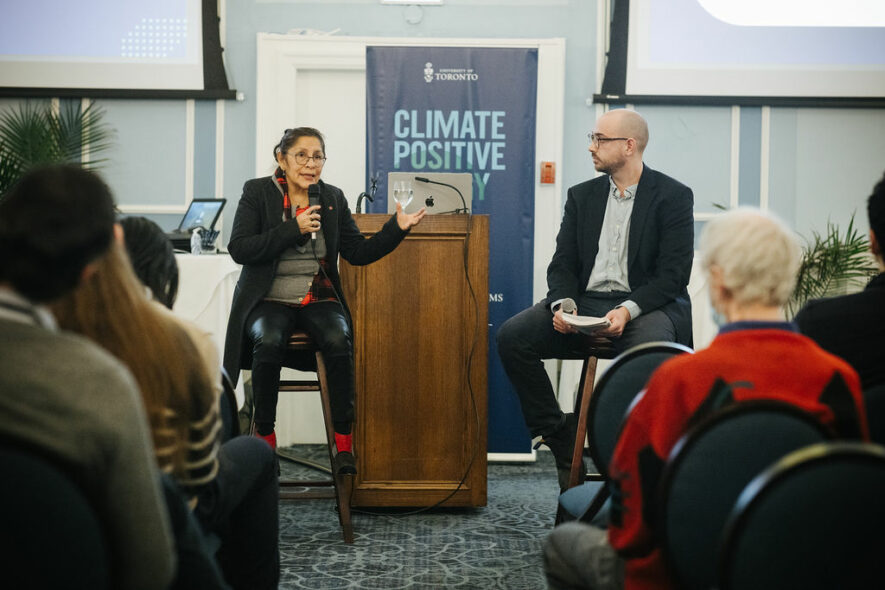 On Monday, February 27, Climate Positive Energy was pleased to support the Munk School Master of Public Policy Student Association in hosting Canadian Senator Rosa Galvez for a fireside chat. The event organization was led by CPE Student Member Hugo Cordeau, who spoke to the importance of integrating multidisciplinary solutions to address the climate crisis during his opening message, and why the time to act is now. CPE Academic Director, David Sinton, delivered welcome remarks to the group of almost 60 attendees, and spoke to the joint interests and backgrounds of Senator Galvez and Sinton – who are both engineers, and professors. Senator Galvez joined in a conversation with Canada's National Observer Journalist John Woodside, an Ottawa-based climate reporter.
Originally from Peru, Senator Galvez is one of Canada's leading experts in pollution control and its effect on human health. She specializes in water and soil decontamination, waste management and residues, and environmental impact and risk assessment. Her recently release white paper, titled Aligning Canadian Finance with Climate Commitments, discusses the role of financial decision-making in climate impacts and outcomes.
"We know, based on science, that greenhouse gas emissions exist and that they are warming the planet," said Senator Galvez during her chat. "And, we have engineers who have dedicated their careers to working on renewable energy solutions and who are telling us that these solutions are available. So, why have we not been able to complete this climate transition?"
The problem, according to Senator Galvez, is funding: "Cash flow is not supporting our scientists and engineers."
In her paper, Senator Galvez calls for all institutions to be aligned with climate commitments, and asks for responsible target-setting and planning, including compliance with a global carbon budget consistent with the Paris Agreement. Her paper also calls for respecting the rights of Indigenous Peoples and other environmental and social goals.
"[If] everybody heads in the right direction, [that] makes the impact that much bigger."
To read Senator Galvez's paper, click here.
Thank you to Senator Galvez, John Woodside, and to all attendees for their engagement during the discussions. CPE looks forward to supporting further activity that will help the University advance its progress towards achieving its Net-Zero goals.