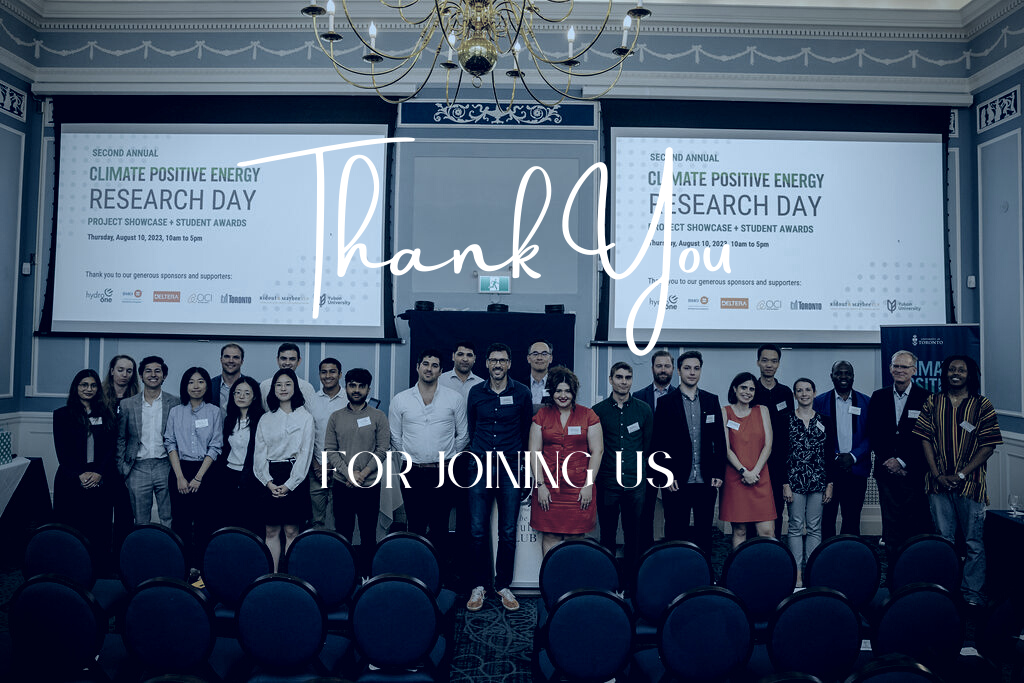 On Thursday, August 10, Climate Positive Energy was pleased to welcome more than 200 students, faculty, partners, and industry members for our second annual Research Day event. As part of the event, we hosted The Honourable Steven Guilbeault, Minister of Environment and Climate Change Canada, to share a special announcement with audiences in the room and online, followed by a media Q&A session.
In his announcement, Minister Guilbeault unveiled a new Clean Electricity Regulation draft designed to help Canada achieve a net-zero grid by 2035. He also recognized the students involved in research through Climate Positive Energy at the University of Toronto:
"I'm thrilled to see so many creative and innovative ideas on display here today," remarked Minister Guilbeault. "Keep them coming! Because to reach net-zero by 2050, we will need your energy and creativity; we need your innovation research, your ideas and ground-breaking, society changing technologies."
"It is events like these that keep inspiring youth to continue to develop their skills and expand their knowledge so that they can participate in to move towards a more sustainable future," he continued. "All of us need to play a role in building the future we want to see."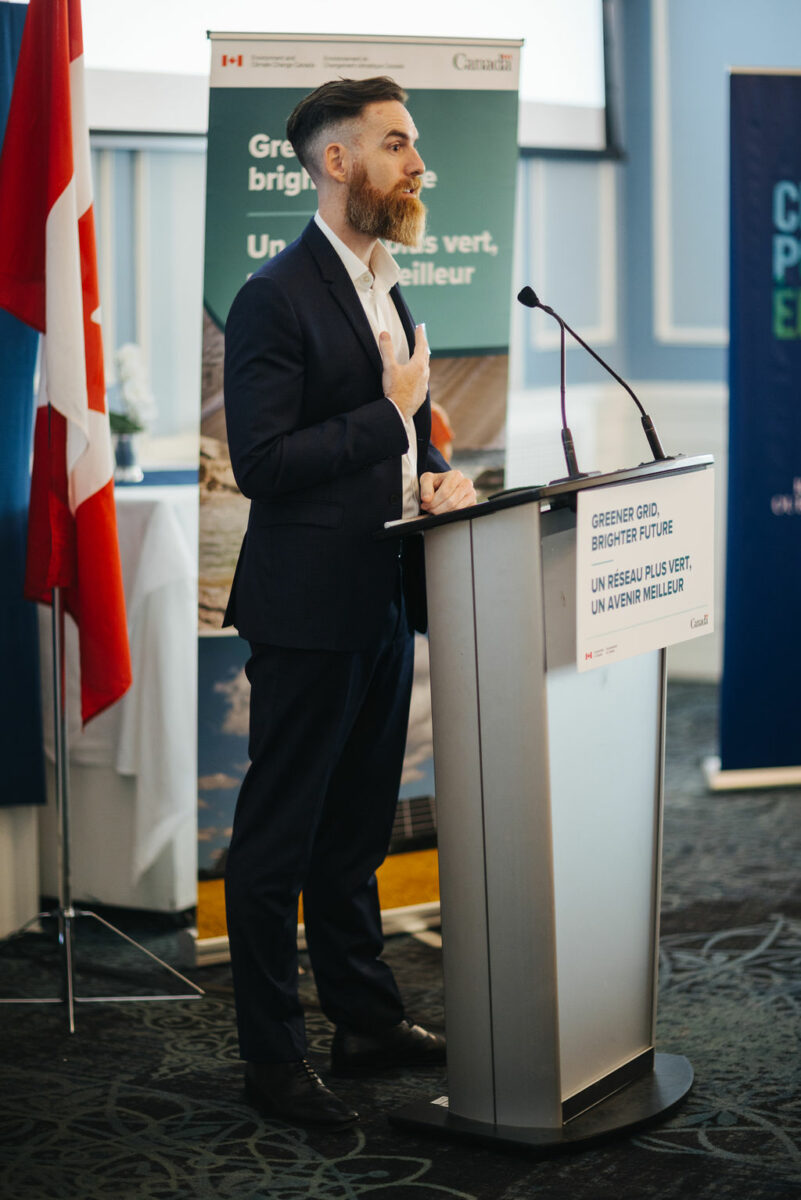 The importance of adopting clean electricity was also highlighted in the keynote talk "A Better and Brighter Future for All" by John Gracie, VP Strategy and Innovation at Hydro One Networks Inc. During his remarks, John noted that electricity demand is expected to triple by 2050 – and how future energy systems must be flexible, dynamic and incorporate a number of distributed energy resources, such as renewable energy and smarter grids, to support decarbonization goals.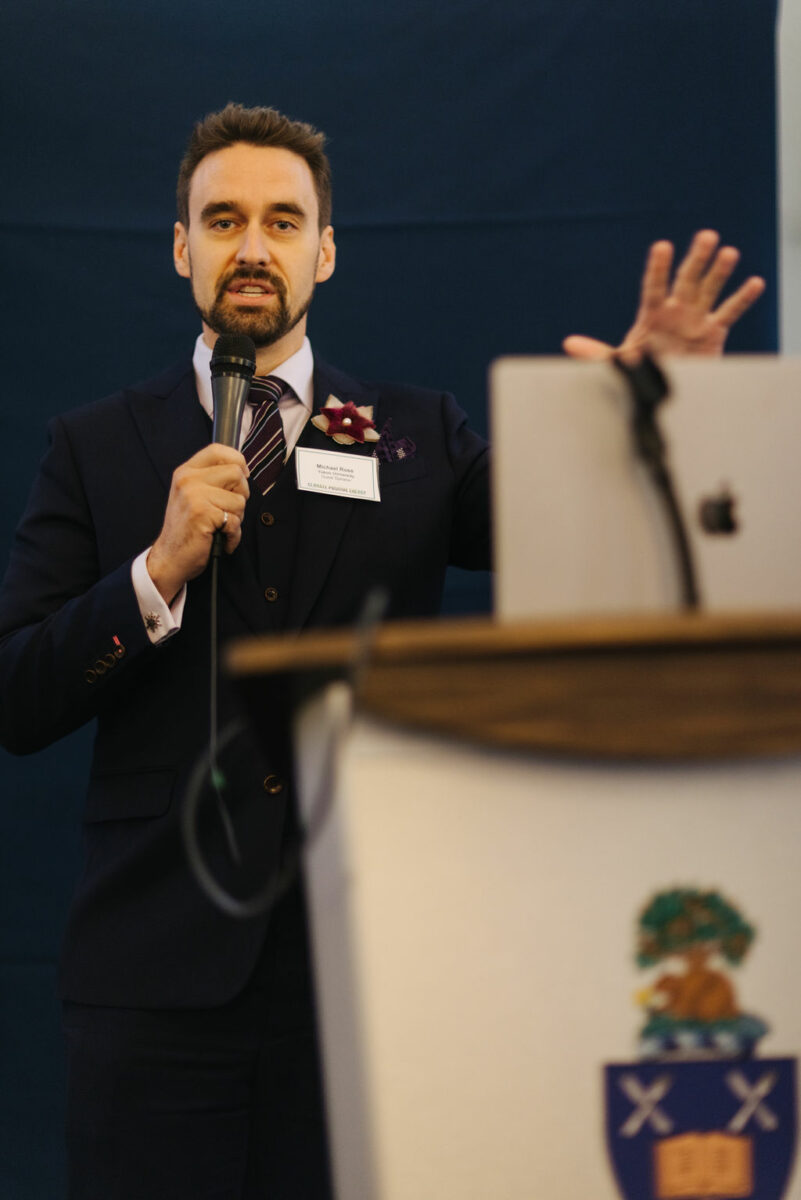 Clean energy generation and distribution – particularly in the Northern energy landscape – were also explored by guest speaker Michael Ross, Industrial Research Chair in Northern Energy Innovation at Yukon University. Dr. Ross provided insights into integration renewable energy solutions in remote Indigenous communities, and the multi-disciplinary approach needed to support a just energy transition, including social, technical, environmental, economic, and political considerations.
In the afternoon sessions, attendees were treated to multidisciplinary presentations from our 20 student researchers from more than a dozen different departments, who received graduate scholarships and summer research awards from Climate Positive Energy. These presentations were observed by a panel of judges who awarded prizes, consisting of cash and IP consultation services by Toronto-based law firm Ridout and Maybee, to researchers who demonstrated exceptional capabilities to advance CPE research themes.
Also supporting student success, we were pleased to welcome Dean Yip from the Faculty of Applied Science and Engineering, Rod Lohin from the Rotman Business School, and Adjunct Professor of Graduate Studies Susan McGeachie to announce a new Climate Finance Accelerator. A collaborative initiative between Climate Positive Energy and Rotman School of Management, the Accelerator provides graduate students with the multi-disciplinary learning related to climate financing that play a big role in the energy transition.
Congratulations and thank you to our CPE Research Day award winners:
Undergraduate researchers:
Charlotte Tombs, Community-Based Organizations (CBOs) and Solar Photovoltaic (PV) Deployment
Heewon Kim, Pi-conjugated Polymers with Radical Pendant Group for Battery Usage
Diego Arreola Fernandez, Plastic Peace: Assessing Agency in Developing Countries for a Pioneering Plastics Treaty
Graduate researchers:
Olivia Doggett, Designing Toward Sustainable and Equitable Agricultural Labor and Technologies
Eloi Grignon, Redox-active polyethers for solution-based electrochemical carbon capture
Jon-Paul Mastrogiacomo, Monitoring Methane Enhancement Ratios over Cities
Our judging panel:
Graham Takata, MASc, CEM, FSA | Director of Climate Change, BMO Global Asset Management
Graeme Armster, P.Eng., LEED GA | Director of Innovation and Sustainability, Deltera
Dr. Jeff van Heumen, Assistant VP, Business Development, Ontario Centre of Innovation
Megan MacLean, Project Lead – Outreach & Engagement Environment and Climate Division, City of Toronto
Our volunteers:
Aaron Belman Martinez
Alexandre Tugirumubano
Hosea Patrick
Valeria Morozova
Our generous Research Day awards sponsor:
Images by Liz Beddall Photography: