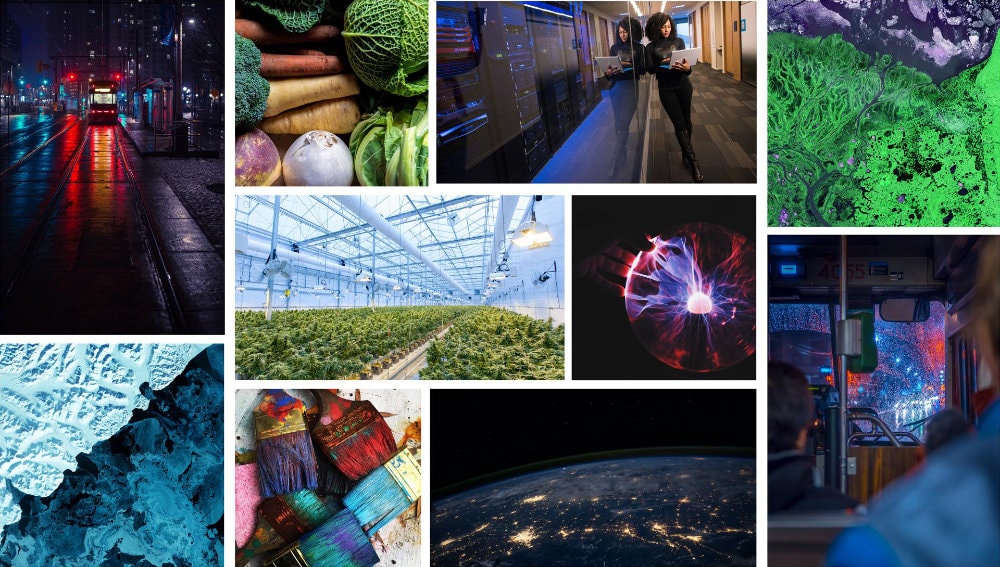 U of T Scarborough is awarding $1.8 million to help kickstart two large collaborative research projects that are dedicated to tackling some of the most pressing challenges of our time.
The Clusters of Scholarly Prominence Program (CSPP) is UTSC's flagship research funding program for projects that support the campus's strategic initiatives. The program prioritizes research that is interdisciplinary, inter-departmental, and highly collaborative.
"The goals and aspirations of these research clusters reflect our core values at UTSC," says Professor Irena Creed, vice-principal research and innovation at U of T Scarborough.
"They showcase areas of established and emerging strength on campus, and also add to U of T's global reputation through research prominence, innovation, creativity and exceptional learning opportunities for our students."
The Sustainable Food and Farming Futures Cluster will be co-led by Associate Professor Jayeeta Sharma (Department of Historical and Cultural Studies) and Professor Marney Isaac (Department of Physical & Environmental Sciences and Department of Global Development Studies).
A main goal of the cluster is to identify how the environmental impacts of agriculture can be reduced, while simultaneously promoting food security, equitable food systems, and the availability of culturally relevant foods. It will leverage existing expertise from researchers in nine different departments on campus.
The goals and aspirations of these research clusters reflect our core values at UTSC.
"This funding highlights the commitment that UTSC has placed on transitioning to sustainable agriculture systems, right here in Toronto and around the world," says Isaac.
She adds the cluster will include innovative research on sustainable agriculture systems including crop resiliency, urban agriculture and agroecology.
Sharma says the research will centre around collaborations with community partners and other stakeholders to advance socially just means of food production.
"UTSC is a leader when it comes to engaging and working collaboratively with community partners on research, and this cluster embodies that model," she says.
It will also capitalize on momentum that's been generated over the past years through grassroots collaborations on food sovereignty research projects throughout the city.
The other cluster to receive funding, called Urban Just Transitions from Scarborough to the Globe, will be co-led by Professor Matthew Hoffmann (Department of Political Science) and Assistant Professor Laura Tozer (Department of Physical & Environmental Science).
It brings together researchers from five different departments who will look at ways to achieve a just transformation to a zero-carbon society and energy system, which will be important in addressing climate change.
"We're very excited to get to work on this project," says Hoffmann, adding the cluster will focus on how justice and equity can play a role in transitioning away from carbon pollution.
"This funding will allow us to build relationships with communities in Scarborough and learn how community-university research partnerships can help envision and build a more equitable and sustainable city."
Tozer says that most research and funding aimed at reducing carbon pollutions focuses on the issue as a technological challenge. This cluster is unique in that it also looks at the associated social, cultural and political challenges.
"Working together with community partners, we'll be delving into how climate change is relevant in day-to-day life and how we can help accelerate a fair transition to a city that doesn't produce carbon pollution," she says.
Each year UTSC researchers are invited to apply to the CSPP. Successful clusters need to be led by a UTSC faculty member, consist of between five and 10 members, and include representation from at least three UTSC departments. The clusters also need to apply and succeed in major funding competitions (such as CIHR, NSERC, SSHRC) and become self-sustaining.
This is the second year the program has awarded funding to research clusters on campus. Last year's inaugural competition awarded $2.3 million in funding to the following:
Originally posted at: https://utsc.utoronto.ca/news-events/breaking-research/sustainable-food-fighting-climate-change-utscs-flagship-research-program-funds