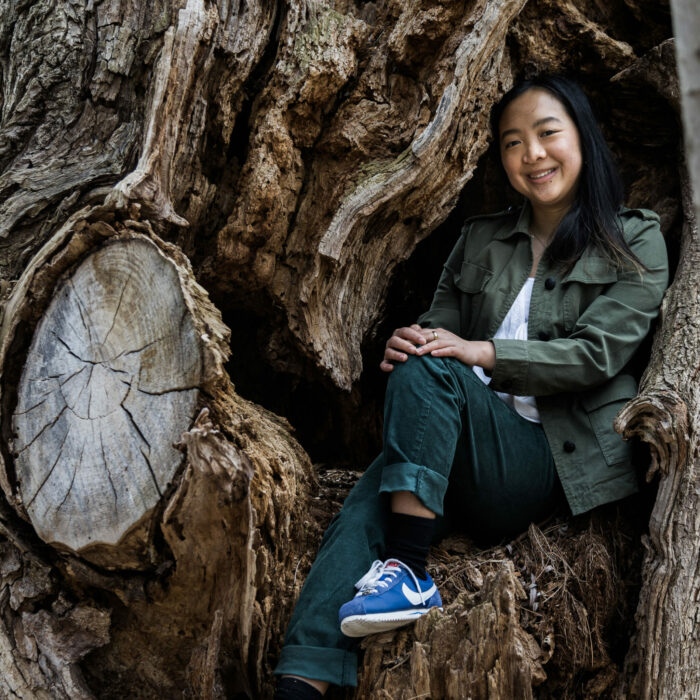 Amélie Desroches signed up for U of T Mississauga's environmental science and management program while still unsure of her future direction—then fell in love with both subjects. Now in her third year, she's won awards, co-leads an environmental club and conducted important research on urban trees, supported by a U of T Climate Positive Energy (CPE) Undergraduate Research Award.
For Earth Day, Amélie explains her journey from eco-conscious high school student to passionate and interdisciplinary environmentalist for the university's Defy Gravity campaign.
I never knew what I wanted to study. I applied to life sciences, I applied to chemistry, I applied to finance!
And then, later in Grade 12, I became vegetarian. When I researched vegetarianism, it interested me to the point where I decided to combine eco-consciousness with my interest in sciences and chose environmental science for my program. The summer after my second year, I got the opportunity to work with Professor Tenley Conway at the department of geography, geomatics and environment, thanks to a Climate Positive Energy Award.
We were researching urban trees – all the things that are often overlooked.
As part of the York Region environmental plan, they are removing some trees to allow the understory to grow and diversify—having more types of trees helps with diseases and wildfire management. We collaborated with the region to survey people before and after, and I contributed the baseline data and analysis before tree removal.
While past urban tree research has focused a lot on carbon capture, we were looking at social benefits: showing cities how important urban forests are for people to get fresh air, social connections, exercise, and see wildlife. Our data will be shared with York Region.
Being in the field is just a different, valuable experience.
I took courses in research design, statistics and ethics, but it was hard to see how it applied in real life. Being immersed in the logistics of fieldwork, problem solving on the spot, working with stakeholders, presenting to professors and graduate students…all of these things contributed to how well-rounded I am as a student.
It was my first experience presenting in front of a crowd.
I did a presentation on Climate Positive Energy Research Day. It was definitely nerve wracking! I've presented in my classes before, but those are my friends. Here, we had people from TD Bank, different professors from CPE, even graduate students. That kind of experience was not possible in my first and second year because of COVID. It was so beneficial having that opportunity to gain those connections.
I've definitely grown a lot at university.
Once I got offered opportunities like the Climate Positive Energy Undergraduate Research Award and got into research and interacting with other students, I realized I'm really, really interested in the field. At the beginning, I didn't realize how studying the environment encompasses every single discipline: there's a physical side, there's a social side, there's an economic side. And it's what matters most, to myself and to humanity in general. It's become a passion!
"The environment encompasses every single discipline. And it's what matters most."
The future's still open, but I know I want to combine my skills and combine disciplines.
I want to be able to use the science side of my education—like I did during the CPE project, where I analyzed data. But I also want to use the management side to be able to make practical decisions, to make recommendations. And first and foremost, I really do enjoy interacting with people.
So I'm thinking that environmental impact assessment could be a potential journey for me, creating law and policies around the environment. I'm taking courses on Indigenous consultation legislation because it interests me so much, and there's a lot to be done in the field.