Climate Positive Energy Research Day 2023
August 10 @ 10:00 am

-

5:00 pm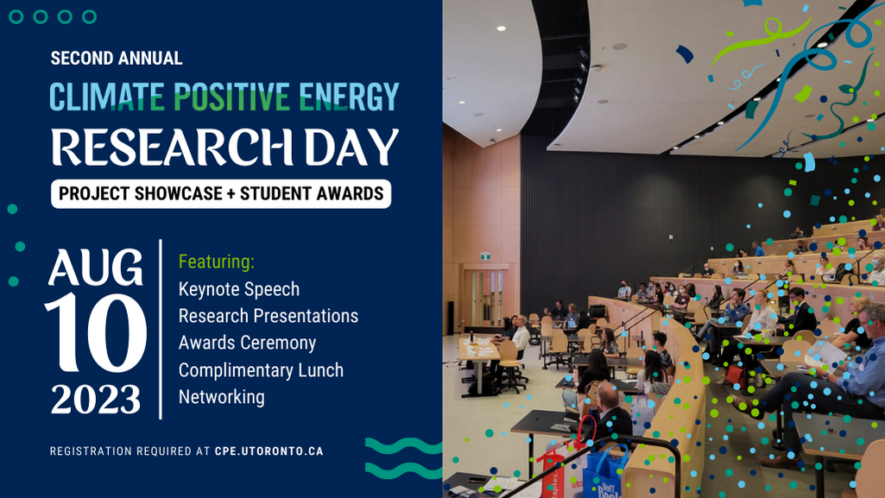 Save the date for our second annual Climate Positive Energy Research Day project showcase and student awards event.
This highly-anticipated event will be hosted in-person only at the University of Toronto, and will feature an opening keynote session, research presentations, and opportunities to network with professionals from various industries. Following the presentations, a judging panel will award prizes to those who demonstrate exceptional capability to advance CPE research themes. Lunch and refreshments included.
Registration is required for this free event.
Register Here

Agenda
View Full Agenda
Keynote Speaker
John Gracie, VP Strategy and Innovation at Hydro One Networks Inc.

John Gracie is currently vice President of Strategy and Innovation at Hydro One, Ontario's largest electricity transmission and distribution service provider.
Guest Speaker
Michael Ross, Ph.D., P.Eng., P.E. | Industrial Research Chair, Northern Energy Innovation, Yukon University

Michael Ross is the Industrial Research Chair in Northern Energy Innovation at Yukon University. His applied research program is governed and directed by the CEOs and managers of the electric power utilities in the Canadian territories, and in partnership with northern communities and Indigenous governments to help address their energy needs. His research areas of expertise include integrating a high penetration of renewable generation in remote communities, electric vehicles, diesel efficiencies, demand-side management, smart grids and microgrids. Dr. Ross received his Master's and Ph.D. in Electrical Engineering at McGill University and his Bachelor's of Applied Science at the University of Toronto. He is a registered Professional Engineer with Engineers Yukon, a Registered Professional Electrical Engineer in the State of Alaska, a board member of the IEEE Northern Canada Section, and is the Canadian representative for the CIGRE Study Committee on "Active Distribution Systems and Distributed Energy Resources".
Judging Panel
Graham Takata, MASc, CEM, FSA | Director of Climate Change, BMO Global Asset Management

Graham Takata is the Director of Climate Change for BMO GAM's Responsible Investment team and leads BMO GAM's Climate Action and Net Zero strategy through which BMO GAM has committed to achieve net zero emissions across all assets under management by 2050 or sooner. Prior to BMO, Graham worked in both technical and climate advisory roles, leading some of Canada's first carbon-financed projects, North American green building strategies, and ESG benchmarking for institutional investors and asset managers. He led Ontario's commercial greenhouse gas investments under the Green Ontario Fund, and has supported multiple sectors including health care, energy, automotive, and large industry integrate climate change risks and opportunities into their business strategy. Graham is a member of the Responsible Investment Association and Association of Energy Engineers and holds a Bachelor of Environmental Science from the University of Guelph and a Master's in Applied Science from Ryerson University.
Graeme Armster, P.Eng., LEED GA | Director of Innovation and Sustainability, Deltera

Graeme Armster currently serves as the Director of Innovation and Sustainability at Tridel, where he is responsible for developing and implementing new products and processes across Tridel's portfolio. In his role, Armster focuses on green technologies that reduce carbon emissions, such as geothermal, VRF, integrated solar photovoltaic (PV), district energy, smart building technology, and EV charging. Additionally, Armster is developing Tridel's Environmental, Social, and Governance (ESG) and Decarbonization Strategy, which is aimed at promoting sustainability and reducing the company's carbon footprint. His expertise and dedication to sustainability have helped Tridel become a leader in green building practices in the industry.
Dr. Jeff van Heumen, Assistant VP, Business Development, Ontario Centre of Innovation

Jeff is a trained polymer chemist with a PhD specialization in polyurethane chemistry. During hiscareer, he has held several R&D related positions in the automotive supply chain. From his PhD and R&D roles, Jeff has 5 patents and over 15 publications. Later, he pursued a new challenge in the public accounting sector as a SR&ED consultant. Over the past few years, Jeff has provided CFO and VP product support for a small, private Waterloo-based Non-Destructive Testing company that was later acquired.
Megan MacLean, Project Lead – Outreach & Engagement Environment and Climate Division, City of Toronto

Megan MacLean is a Program Manager with the City of Toronto's Environment & Climate Division. In this role, Megan is responsible for community engagement strategies for climate action, and developing and supporting partnerships, projects and community networks aimed to reach Toronto's greenhouse gas emission reduction targets. Megan has also worked directly on the City's delivery of community outreach programs, public engagement and consultation, and capacity building and training for staff and community volunteers. Previously, Megan worked in the non-profit sector in environmental policy development. Megan has a Master of Science from the University of Guelph and a graduate diploma in Public Administration from Western University.

Thank you to our generous Research Day Awards Sponsor: