Climate Positive Energy Research Day 2022
August 17, 2022 @ 11:00 am

-

2:30 pm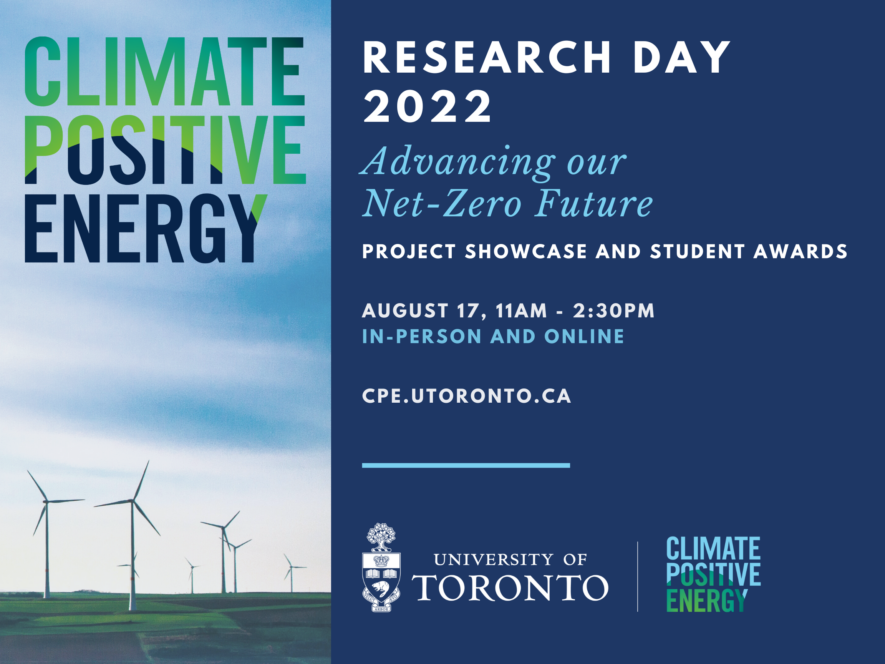 Save the date for our first annual Climate Positive Energy Research Day project showcase and student awards event! This event will be hosted at the University of Toronto and will feature a lunchtime keynote session, research presentations, and opportunities to network with professionals from various industries. Following the presentations, a high-profile judging panel will award prizes to those who demonstrate exceptional capability to advance CPE research themes. Detailed agenda to be announced.
Meet the Judges
Graham Takata, MASc, CEM, FSA | Director of Climate Change, BMO Global Asset Management

Graham Takata is the Director of Climate Change for BMO GAM's Responsible Investment team and leads BMO GAM's Climate Action and Net Zero strategy through which BMO GAM has committed to achieve net zero emissions across all assets under management by 2050 or sooner. Prior to BMO, Graham worked in both technical and climate advisory roles, leading some of Canada's first carbon-financed projects, North American green building strategies, and ESG benchmarking for institutional investors and asset managers. He led Ontario's commercial greenhouse gas investments under the Green Ontario Fund, and has supported multiple sectors including health care, energy, automotive, and large industry integrate climate change risks and opportunities into their business strategy. Graham is a member of the Responsible Investment Association and Association of Energy Engineers and holds a Bachelor of Environmental Science from the University of Guelph and a Master's in Applied Science from Ryerson University.
Ahmed Khalil, MBA/M. Eng. | National Development Lead, Energy Performance Services (EPS), Siemens Canada

Ahmed has over 16 years of experience in Energy Management and Industrial Automation with global technology leaders. Throughout his professional journey, he has held different Sales and Business Development leadership roles in North America, Middle East, and Africa where he led strategic development projects and multi business-unit growth initiatives from ideation to implementation. For the past decade, his focus has been on serving vast array of Canadian customers in strategizing and operationalizing sustainable growth across various markets in the public and private sectors. His expertise spans Energy and Digital Transformation with complementary technical knowledge of the latest cutting-edge technologies that are imperative to the ongoing economy transition like microgrids, IoT, edge computing, cloud-based services, big data analytics and AI. As a senior business professional, he is passionate about driving positive change and he cherishes complex real-world challenges to co-create value that suits the unique needs of the diverse business ecosystem. Ahmed possesses B.Sc. in Electrical Engineering from the University of Helwan Cairo, Egypt and dual MBA/M. Eng. degree from the University of Ottawa, Ontario. Outside work, Ahmed enjoys his free time with his young family and loves traveling, learning about new places and getting exposed to different cultures.
Irene Lam | Manager, Climate Projects, MaRS Discovery District

Irene works with partners and energy sector stakeholders to address the barriers to energy innovation adoption and build capacity as the sector undergoes significant changes. Irene leads our Newtonian Shift business strategy game sessions, which involve using a life-sized board game to simulate multiple years of energy sector transformation – in just one day. She first joined MaRS with the cleantech team as a coordinator, supporting what was then MaRS Cleantech Venture Services, plus the AEC and ArcTern Ventures. She is a graduate of environment and resource studies at the University of Waterloo. The interdisciplinary nature of her program led her to take on a variety of roles with government, educational organizations, social enterprises, and community and NGO groups. She has a passion for convening people and facilitating knowledge sharing and community building.
Jeff van Heumen, PhD | Director, Business Development, Ontario Centre for Innovation

Jeff is a trained polymer chemist with a PhD specialization in polyurethane chemistry. During hiscareer, he has held several R&D related positions in the automotive supply chain. From his PhD and R&D roles, Jeff has 5 patents and over 15 publications. Later, he pursued a new challenge in the public accounting sector as a SR&ED consultant. Over the past few years, Jeff has provided CFO and VP product support for a small, private Waterloo-based Non-Destructive Testing company that was later acquired.
Thank you to our generous Research Day Awards Sponsor: