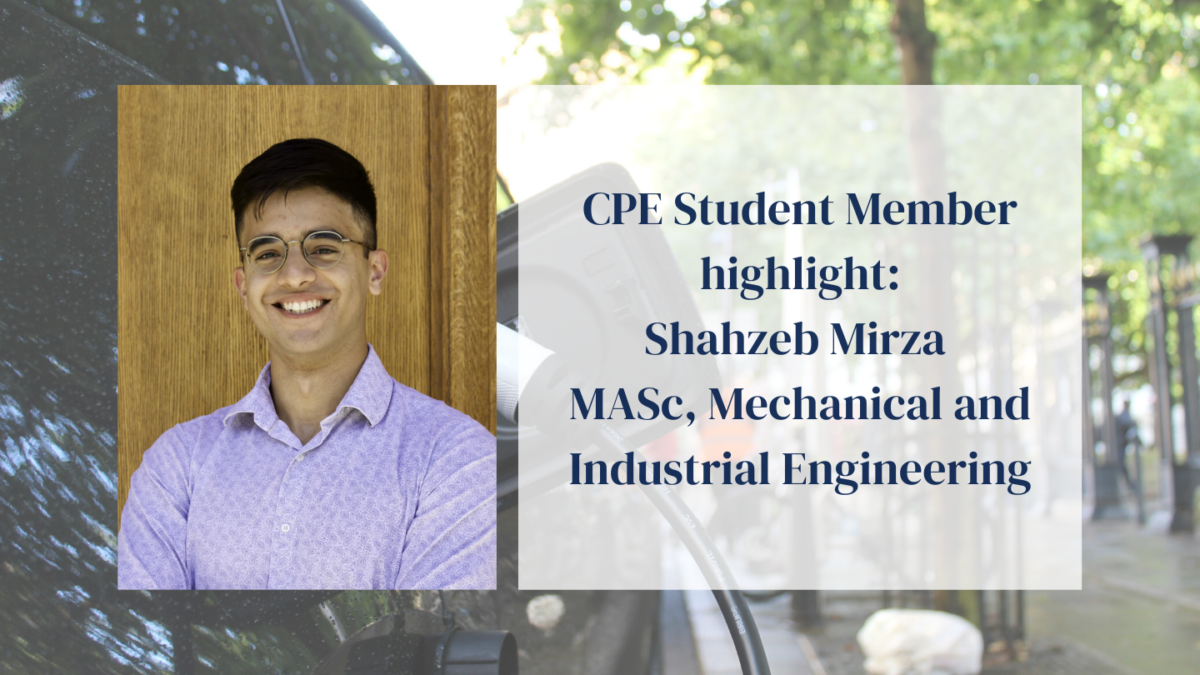 In 2022, Shahzeb Mirza was one of 13 University of Toronto graduate students to receive $15,000 from Climate Positive Energy to further his research. Titled "Thermal Management of EV Power Electronics using Metallic Phase Change Materials," Shahzeb's project focused on enabling the next generation of electric vehicle (EV) infrastructure through novel thermal management strategies. While completing his Masters of Science in Mechanical and Industrial Engineering, he was also working within a multidisciplinary project team at U of T to design a functioning electric vehicle fast charger as a proof-of-concept.
His research journey began in 2020, when after completing his undergraduate degree from University of Alberta, Shahzeb was working as a piping engineer: "I wanted to transition my career into something more sustainable long-term."
While looking into Canada-wide research groups, Shahzeb landed on Professor Cristina Amon's webpage. "I was looking for research groups that were tackling problems, or that I thought were practical, useful, and had a future." Shahzeb found Professor Amon's lab was undertaking "cutting-edge" EV research, and his interest was piqued. Shahzeb would go on to conduct EV research at U of T, supervised by both Professor Amon and Professor Sanjeev Chandra.
EVs have the potential to contribute to a sustainable future through reduced carbon emissions and improved quality. Automotive emissions contribute significantly to greenhouse gas (GHG) emissions globally, and "there are about to be a lot more vehicles on the road," explains Shahzeb. Some reports estimate as many as 2 billion vehicles worldwide by 2035 (source). Shahzeb theorizes that a transition to EVs as soon as possible can make cities more liveable, cut large amounts of carbon emissions, and increase life expectancies.
However, there are barriers to widespread adoption of EV infrastructure: "from a consumer perspective, there's a lack of charging infrastructure, and when an EV runs out of battery, it takes longer to charge the car than it would to refuel a car."
The speed of charging an electric vehicle is a thermal problem: when a significant amount of power is pumped during this process, some of it is lost as heat. This heat is dissipated in chips inside the vehicle and the charger. Without proper cooling for these chips, there is a risk of explosion – underscoring the critical need for effective thermal management. "My project focused on exploring innovative methods to keep those chips cool, aiming to enable fast and efficient charging for electric vehicles," Shahzeb explains.
Speeding up the charging process does more than just make consumers happy because their car charges faster. "Having faster charging also means that a charger can now service twice as many cars" – a win-win effort.
Having graduated from his program in May of 2023, Shahzeb hopes for a real-world impact and application of his CPE-funded research: "I would love if the impact of my research was to enable future research to look into more promising materials to see if they could be integrated into future chargers. I'm hoping it serves as a stepping stone for future designers and future material scientists to expand on."
Being a part of the CPE community also helped Shahzeb expand his network. He attended CPE's first EDI workshop for researchers, and credits the CPE newsletter for helping him keep up with events and updates.
"Through CPE funding, I was able to get into the 2022 IEEE ITherm Conference and network with researchers who were doing research extremely close to what I was also doing. I saw a lot of great work being done." Shahzeb presented a paper at this conference. Shahzeb also says he also submitted a journal publication prior to his graduation. "It was an accomplishment to take all the work I had done and present it to the scientific community, and to have them take it seriously." The journal is awaiting publication.
To learn more about Shahzeb's research project, visit: https://cpe.utoronto.ca/project/thermal-management-of-ev-power-electronics-using-metallic-phase-change-materials/
View Shahzeb's website: https://shahzeb97.github.io/
Connect with Shahzeb on LinkedIn: https://www.linkedin.com/in/shahzeb-mirza/