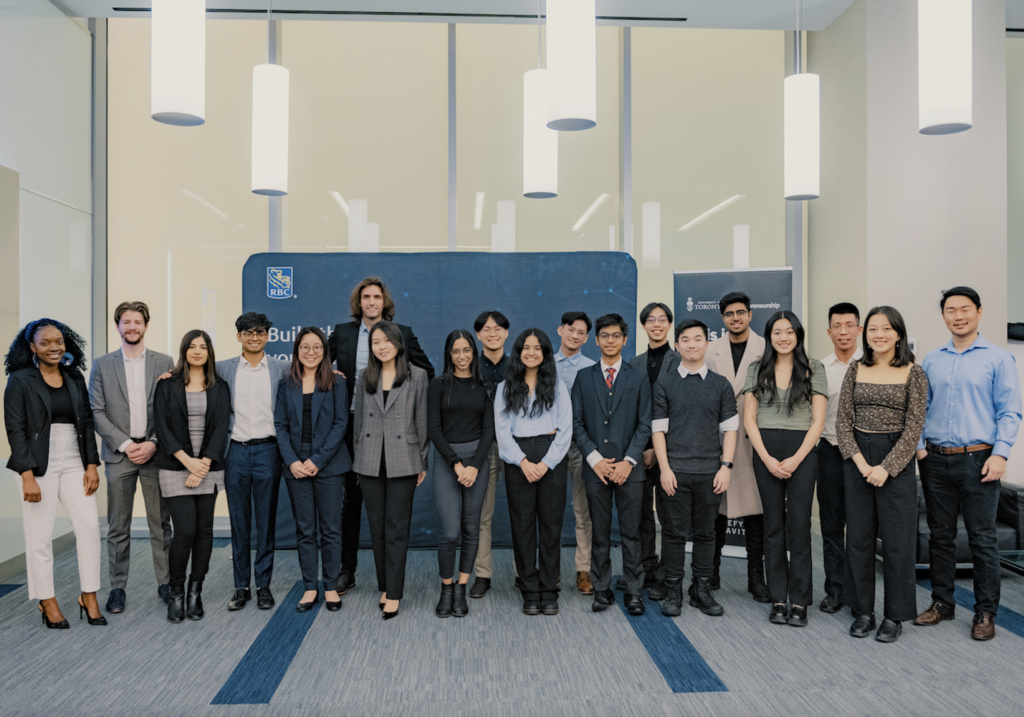 Delivered by University of Toronto Entrepreneurship and Climate Positive Energy, the RBC Innovation Challenge is an annual, university-wide competition, open to all students, that invites multi-disciplinary teams to think big and focus on technology projects with the potential for global impact. The challenge brings with it an opportunity – to use tech for good and generate positive societal and economic impact.
To tackle this challenge and build a solution from the ground-up, U of T students worked in cross-functional teams comprising of members with business-focused roles, technical roles, and subject matter expert roles to address the challenge statement: How might we utilize technology and data to help Canada reach its 2050 Net Zero targets?
Following ideation sessions, mentorship opportunities, and a pitch-prep workshop, winning teams were voted on by attendees of the Final Presentations on January 26, 2023. Climate Positive Energy attended the final presentations where three wining teams were chosen:
1ST PLACE: Mission-E
Mission-E is a web app designed for two user segments – farmers and institutions. For farmers, Mission-E recommends the optimal fertilizer amount for their farm. For institutions, Mission-E aggregates farm-specific data such as farm location, yield, fertilizer rates, crops grown, etc. allowing institutions to obtain insights into agricultural practices.
Team: Annabeth Lin (Rotman Business Management), Mark Spahl (Metabolic Systems Engineering), Priya Patel (Dalla Lana School of Public Health)
Prize: $35,000 + Conference registration, roundtrip airfare, and carbon offset to attend and represent U of T and an international climate or related sustainability conference of their choice.
2ND PLACE: Nebula
Nebula aims to use innovations in atmospheric water collection technology to provide clean drinking water to rural, remote, and Indigenous communities in Canada. Their design is the first in the market that focuses on using zero energy "passive" technology, as well as energy- consuming "active" technology to harvest potable water from humid atmospheric air.
Team: Kimberly Watada (Chemical Engineering), Alton Rego (Chemical Engineering), Matthew McArthur (Architecture), Neha Basra (Mechanical Engineering), Mary Daka (Civil Engineering)
Prize: $25,000
3RD PLACE & PEOPLE'S CHOICE: HALLYY
HALLYY uses drones to collect soil samples across farms, providing clear, actionable data to farmers on how to best optimize fertilizer usage for multiple locations on the farm. They leverage hardware and software to collect and analyze soil samples to provide accurate data-driven insights to farmers.
Team: Daniel Han (Engineering Science), Matthew Ao (Computer Engineering), Julia Li (Rotman Commerce), Tony Liu (Engineering Science), Gloria Yang (Rotman Commerce), Tian Yu (Engineering Science)
Prize: $20,000
Congratulations to the winning teams!