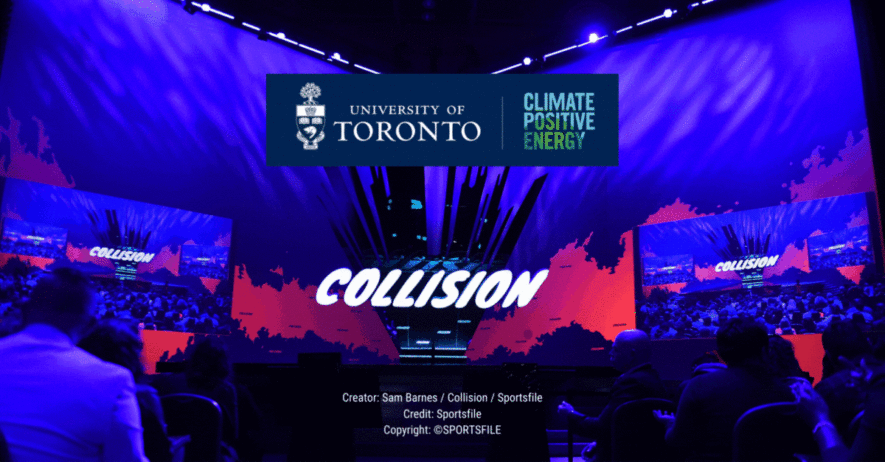 On Wednesday, June 28, Climate Positive Energy's Shatha Qaqish-Clavering served on a panel at Collision, North America's fastest-growing tech conference. Titled "Toronto is the place for cleantech innovation," the panel discussed how transitioning to a low-carbon future will require collaboration, technological know-how, talent, and a supportive environment. Peter McArthur (VP National Cleantech Lead, RBCx) was moderator for the discussion, which focused on key developments accelerating Toronto's transition to net zero by 2040 – including U of T's proposed $23M Grid Modernization Centre (the first of its kind in Canada!) alongside activity at the Biozone, Electric Vehicle Research Centre, and other research at U of T focusing on green jobs.
"University of Toronto is home to cutting-edge research, and our faculty are collaborating with global companies to ensure that our activity and classroom curriculums all align with emerging technologies and market needs," said Shatha. "Our Grid Modernization Centre, which supports the commercialization and adoption of early-stage technologies into the grid, convenes more than 46 stakeholders in the energy sector. The Centre will support de-risking new technologies through testing and simulating to the grid, as well as mapping obstacles for adoption, like regulatory requirements and processes. This will accelerate the adoption of cutting-edge technologies to de-carbonize the grid."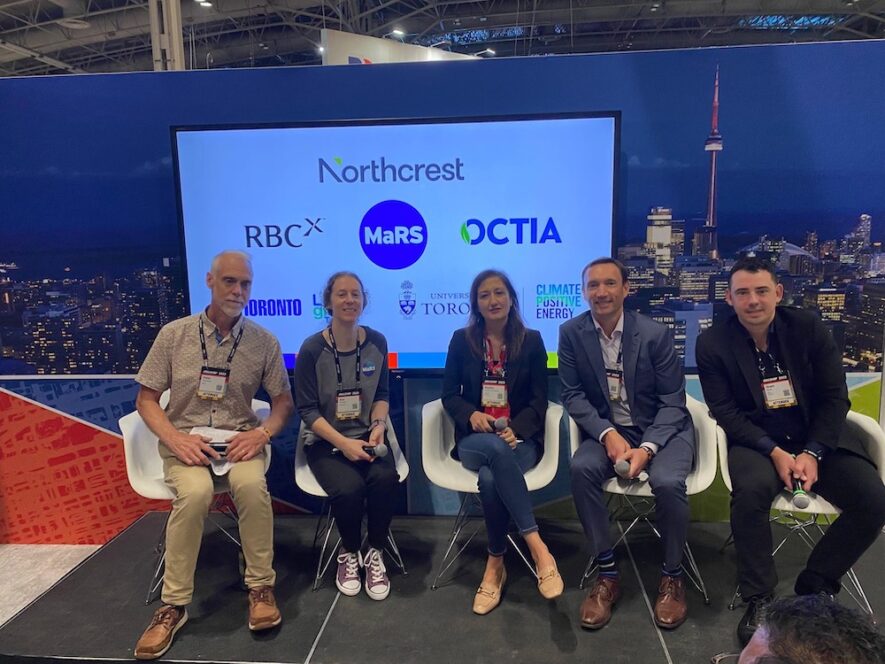 Among the panelists were also Grant Kozlik (Manager, City of Toronto Environment and Climate Division), Sue Talusan (Director, Climate Impact Accelerator at MaRS Discovery District), and Derek Goring (Chief Executive Officer, Northcrest Developments). Grant Kozlik offered insights on Toronto's ambituous targets and the TransformTO strategy, which U of T activity is helping to accelerate progress towards. Sue Talusan added insights on how MaRS Cleantech supports growing ventures by connecting them to partners, customers, investors, talent and capital. Derek Goring added perspectives on the 370-acre Downsview Airport Lands development, which presents a unique opportunity to capitalize on regional strengths and catalyze the geographical clustering of companies that need room to scale up.
Collision, now in its fifth year in Toronto, reached a new record by bringing together 36,378 attendees from 118 countries. This year, Collision selected 1,497 startups from 76 countries and almost 30 industries to be featured at the event. A record-breaking one in three startups at Collision had women founders on their teams.
Thank you to our partners and attendees for joining us at Collision. To learn more about U of T's proposed Grid Modernization Centre, contact info@cpe.utoronto.ca.