Strategic Partnership to provide $220,000 for Youth Engagement Strategy Development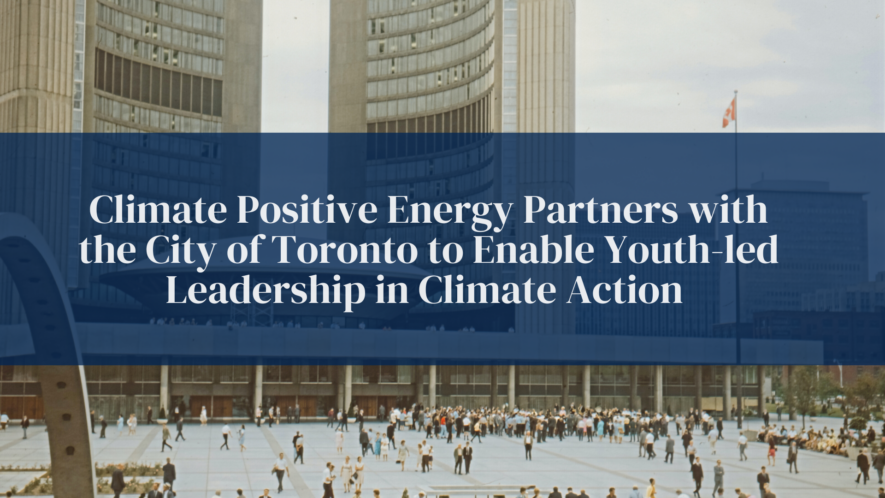 Climate Positive Energy is pleased to announce a partnership with the City of Toronto's Environment and Climate Division to lead the development of a city-wide youth engagement strategy. This work will enable youth-led leadership with an equity lens in climate action in Toronto, supporting the implementation of the City of Toronto's TransformTO Net Zero Climate Action Strategy
The TransformTO strategy outlines a pathway to achieve net zero emissions in Toronto by 2040. As part of the research and development of TransformTO, it was identified that the creation and implementation of a youth-specific engagement strategy is critical to the adoption of the city-wide actions to reduce greenhouse gas emissions.
The City of Toronto and Climate Positive Energy will work collaboratively to support the development of a strategy that:
Considers an anti-oppression equity lens that prioritizes equity-deserving communities, reconciliation, and accessibility while building meaningful partnerships;
Is framed around positive change and opportunities for a better future, being mindful of climate anxiety and youth mental health;
Will inform the formation of a city-wide youth-academic partnership hub and support future climate action youth-led pilot projects; and
Will be co-designed and developed with youth representatives.
The four-phase project will see the research team complete a jurisdictional scan and review of relevant best-practices to inform the approach for a city-wide youth climate action strategy. Once this phase is completed, a co-design with key youth-led or youth focused organizations will be developed, followed by a city-wide consultation process utilizing identified support options to inform the Youth Engagement Strategy. The results of the research and consultations will be presented in a written report, which is expected to be completed in2024. The report will continue to inform key recommendations for youth climate action engagement in Toronto.
"Our youth are the inheritors of a changing planet," said Shatha Qaqish-Clavering, Director of Strategy and Operations at Climate Positive Energy. "By engaging them in the creation and implementation of climate action strategies, we empower them to shape a better future for themselves and generations to come. Their energy, creativity, and drive can make all the difference in accelerating progress towards our Net-Zero goals."
The project team is comprised of 8 researchers from the University of Toronto led by Professor Laura Tozer from the Department of Physical and Environmental Sciences at the University of Toronto Scarborough as the Principal Investigator. A multi-disciplinary team of researchers from 7 different departments and divisions will be working with Tozer on this project.
"We're looking forward to working with young people from across the City of Toronto to understand how climate action matters in their lives and what their visions are for a zero carbon Toronto," said Tozer. "Young people are already a driving force for climate action. This project is about empowering youth engagement in climate action to accelerate it while also addressing inequalities in our city."
"Our partnership with the University of Toronto on the development of a youth engagement strategy is a key part of our city-wide climate action engagement work," added James Nowlan, Executive Director, Environment and Climate, City of Toronto. "We look forward to our collaboration on this important work and to creating a prosperous, equitable, low-carbon city that works for everyone."
For more information, please contact info@cpe.utoronto.ca.