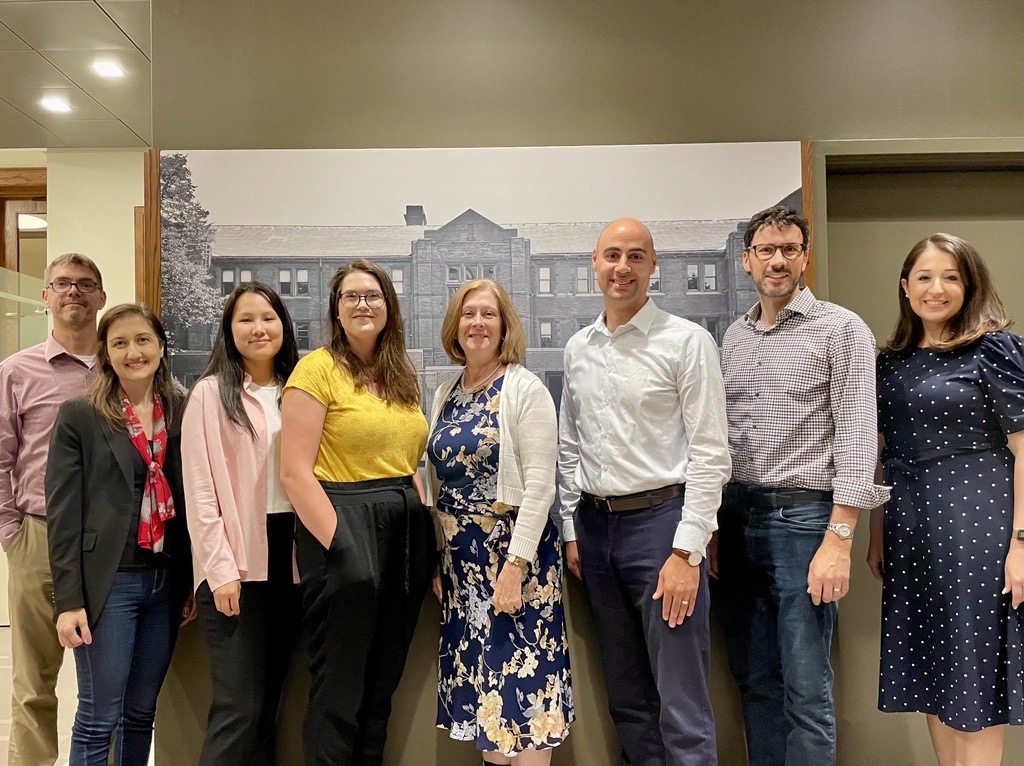 On Friday, July 14, Climate Positive Energy was pleased to host Susan Crystal, Consul General of the United States, for an engaging discussion on sustainable energy and climate change initiatives across the University of Toronto, and how CPE activity is accelerating the University's impact towards a more sustainable future. Joining Consul General Crystal was Michael Benton, Chief of Political and Economic Affairs at the U.S. Consulate General Toronto, and Claudia Lizbeth Valladolid, Public Affairs Coordinator.
The University of Toronto ranks second in the world and first in Canada in the inaugural QS World University Rankings: Sustainability, which assesses universities for their environmental and social impact. As an institution, U of T has undertaken several high-profile sustainability initiatives in recent years, including the creation of the Climate Positive Energy initiative.
Climate Positive Energy's Shatha Qaqish-Clavering and David Sinton offered insight into how its network of researchers is bringing together experts from across the academic spectrum at U of T – students, faculty, and staff with social, political, legal, scientific and engineering backgrounds – all aligning their disciplines to solve complex energy challenges.
"The model of CPE is that we build big things," said Sinton. "One example of a big, national effort is our federally funded CANSTOREnergy project, which brings together researchers from 11 Canadian universities to develop carbon-conversion technologies that create a net-zero means of seasonal storage for renewable energy."
Also sharing insight into U of T's multidisciplinary sustainability research were U of T staff and faculty, including Gwen Burrows, (Assistant Vice President, International Engagement and Impact). CPE Member John Robinson (Presidential Advisor on the Environment, Climate Change and Sustainability), Ron Saporta (Chief Operating Officer St George Campus and Vice President, Operations [Acting]), BioZone's Christopher Lawson (Assistant Professor, Chemical Engineering and Applied Chemistry) and Grace Nosek (Post-Doctoral Fellow, Physical and Environmental Sciences).
"Climate change and sustainability are global challenges that require collaborative efforts from researchers across all nations," said Qaqish-Clavering. "In having discussions with Consul General Crystal about our sustainability activities, our hope is that Canadian institutions such as the University of Toronto can collaborate with our colleagues in the U.S. and contribute to broader international efforts advancing climate action."
"Colleges and universities play an essential role in training the next generation of workplace talent in all sectors, and fostering communication and collaboration among universities in the U.S. and Canada is paramount to advancing climate impact," added Consul General Crystal. "By sharing knowledge and best practices on topics such as sustainable infrastructure and student engagement, we pave the way towards accelerated climate action and environmental protection."
We extend our gratitude to Consul General Crystal, Michael Benton, and Claudia Valladolid for their contributions and insights towards this meaningful discussion, and look forward to inviting members of the U.S. Consulate General Toronto in future discussions about our shared commitments towards a greener future.