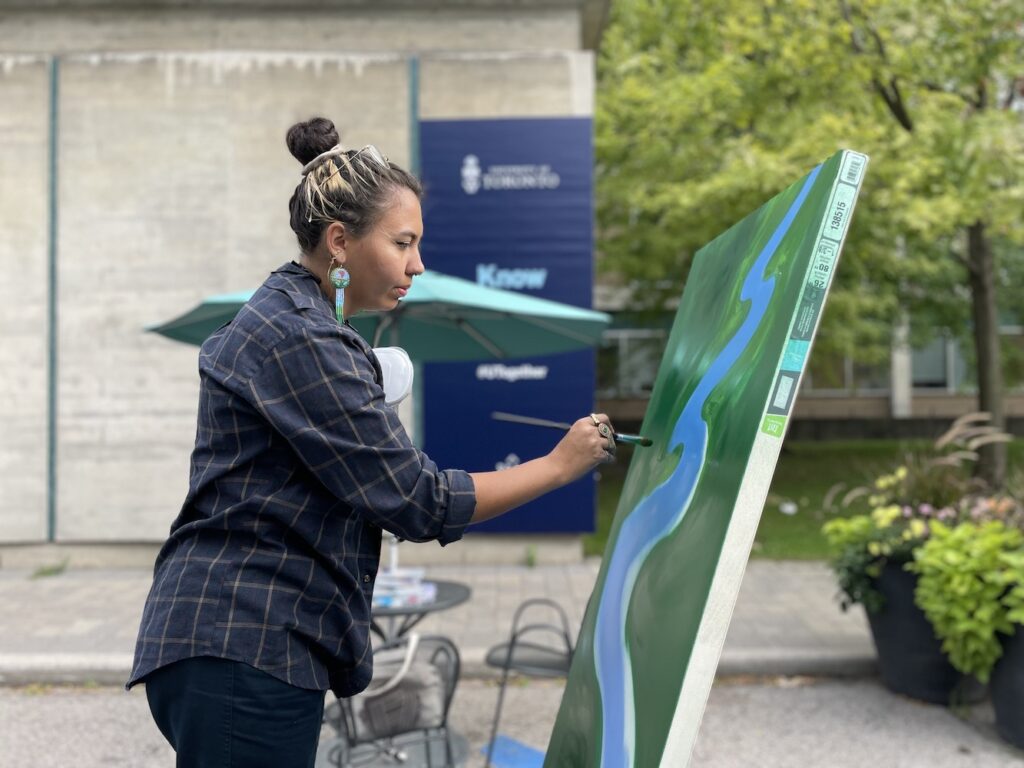 On Friday, September 16, Climate Positive Energy was pleased to welcome six Toronto-based youth artists to University of Toronto's St. George campus to create life-sized artwork as part of the Doorways Art Build, hosted in partnership with Canadian Climate Challenge. Taking over Willcocks Common, the artists used a variety of mediums to create large-scale, double-sided artwork: one side reflecting our current climate trajectory, and the other reflecting the vision for a sustainable future supported by science-based solutions. Reflecting on climate change through the arts is just one of the ways that CPE is taking a multidisciplinary approach in engaging students and youth to take climate action.
"Everyone plays a role in addressing climate change, including creative individuals like artists, musicians, and photographers," said Shatha Qaqish-Clavering, Director of Operations and Strategy at Climate Positive Energy. "We were so pleased to share our campus with these artists and provide them a platform through which they could raise awareness and advocacy about climate change issues, and encourage visitors to interact with and learn from the stories shared through their expressive artwork."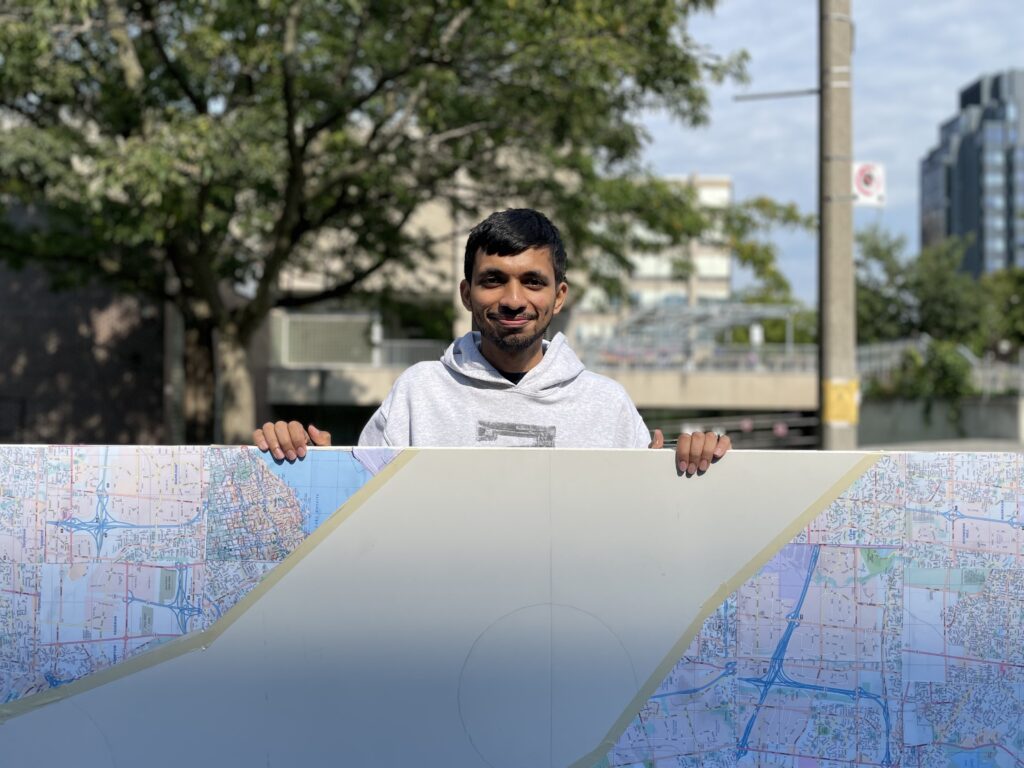 "I think that art is such an amazing way to express ideas," said Nika Moeini, one of the artists who participated in Doorways. "It's really important for us, as young people part of an environmental movement, to have a vision for the future. Art does such a great job of showing us what that future could look like, and inspiring us to take action towards making it happen."
Doorways also attracted feedback and commentary from students who passed by the installation while on campus: "Just seeing this and walking through here, I feel happy about it." Hannah Zhou, an economics and statistics student stopped by to take pictures of the art on her way to another class. "This shows that people actually care about climate change."
Thank you to the artists, musician Katrina Anastasia for live acoustics and vocals, and to our partners at Canadian Climate Challenge for this important event.
Keep scrolling to hear from each of the artists on the significance on their pieces.
---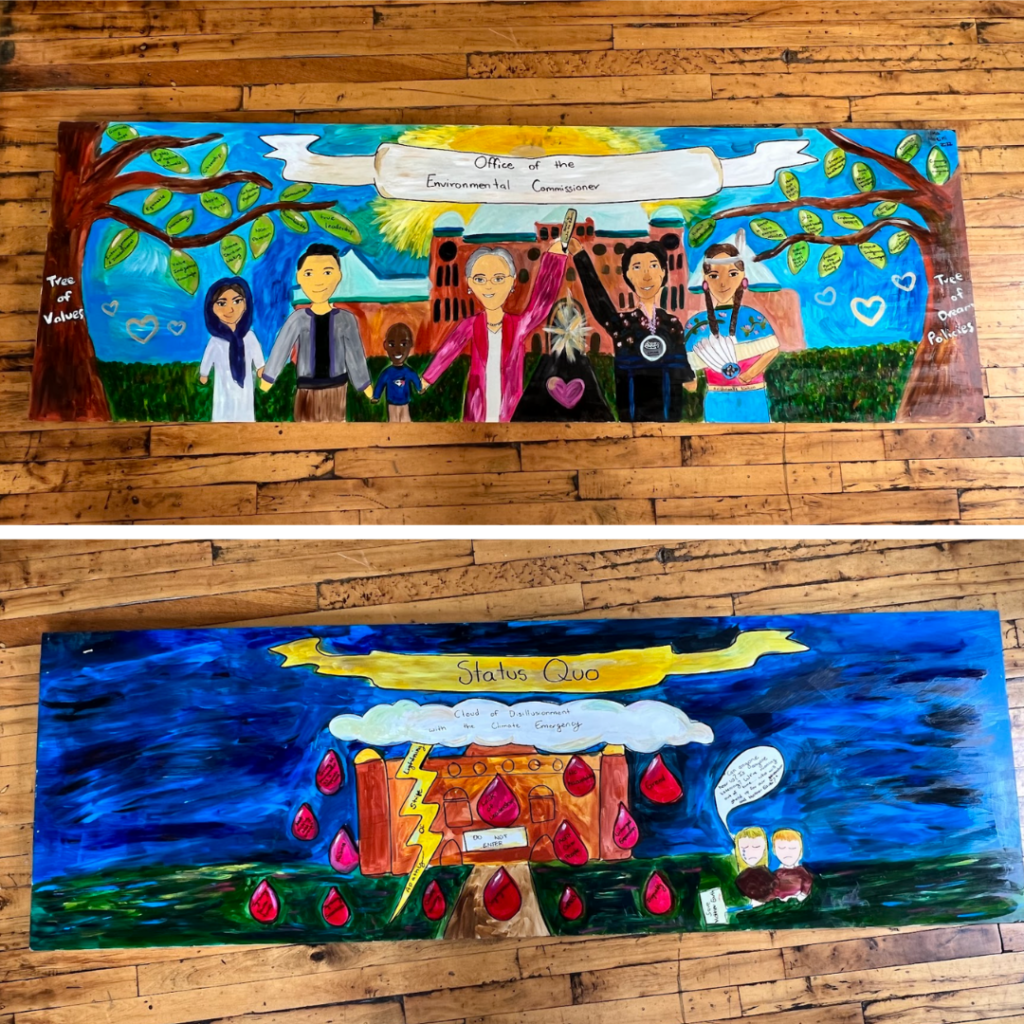 Nika's art piece focused on point 11 of the Ontario Climate Emergency Campaign's 12 point Climate Action Plan: reinstating the Office of the Environmental Commissioner. "I wanted my art piece to reflect the kind of leadership we want to see to bring us to the vision of the world we want, and to demonstrate the current void in leadership with the status quo. On one side of the door, we see a vision of an inclusive, equitable, accountable Office of the Environmental Commissioner, with a team made up of all races and types of people, and a pencil to write the future held up by Indigenous leadership from the Mississaugas of the Credit First Nation and the Commissioner. On the reverse, we see the fear, anger, and sadness associated with the dark storm. Two young advocates are seen crying, wondering if anyone can hear them and if anyone will step up and defend Mother Nature."
---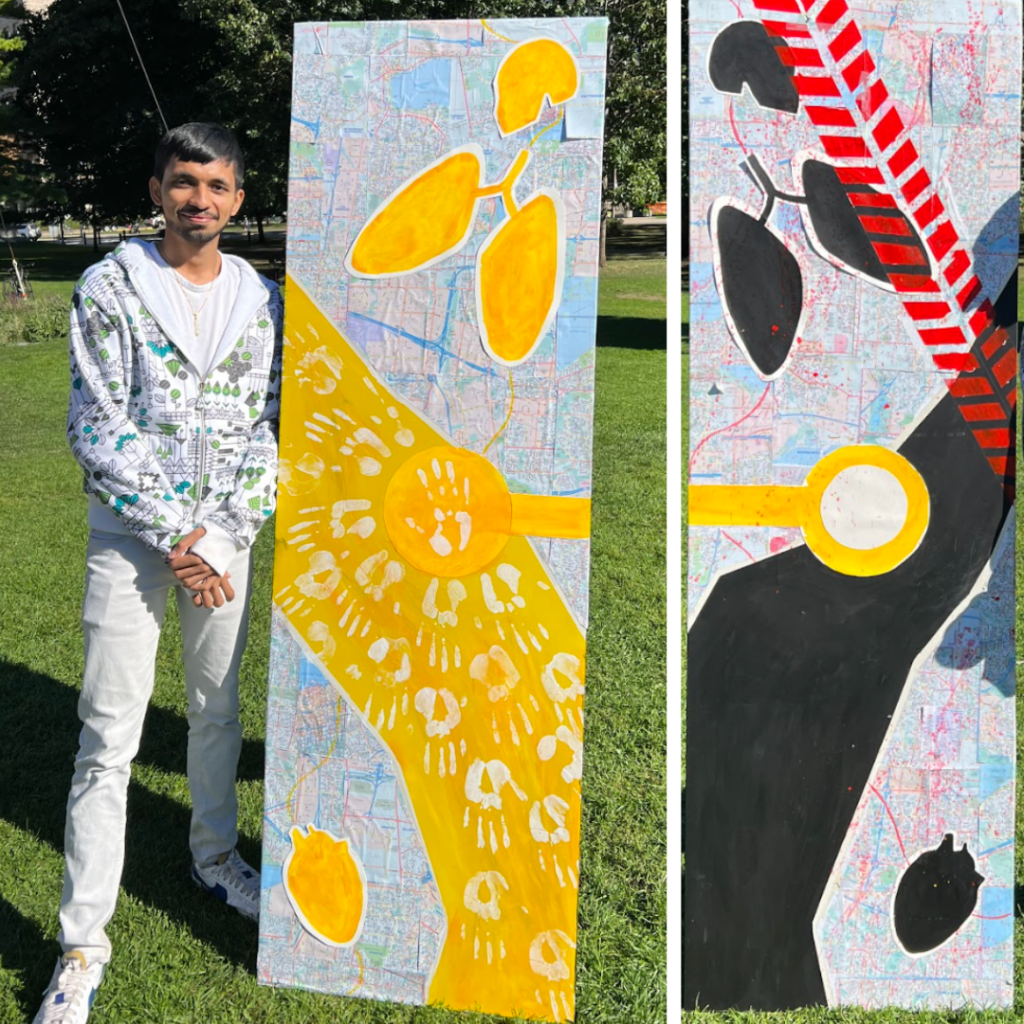 Ujwal Kartik Mantha created a piece to comment on transportation and the drive to move towards zero-emission, community-centred transportation. "My art invites the viewer to look at the problem and it's solution as you walk around it. I used both collage and paint, and the art is mirrored on both sides to show how this problem and its eventual solution may not be that different from each other." Ujwal used maps of Toronto in his piece to bring the global problem into a local setting. "You can see body parts throughout the piece; this is in an effort to imagine the link between the city and the body, and how our actions as commuters have an effect on the health of the city."
---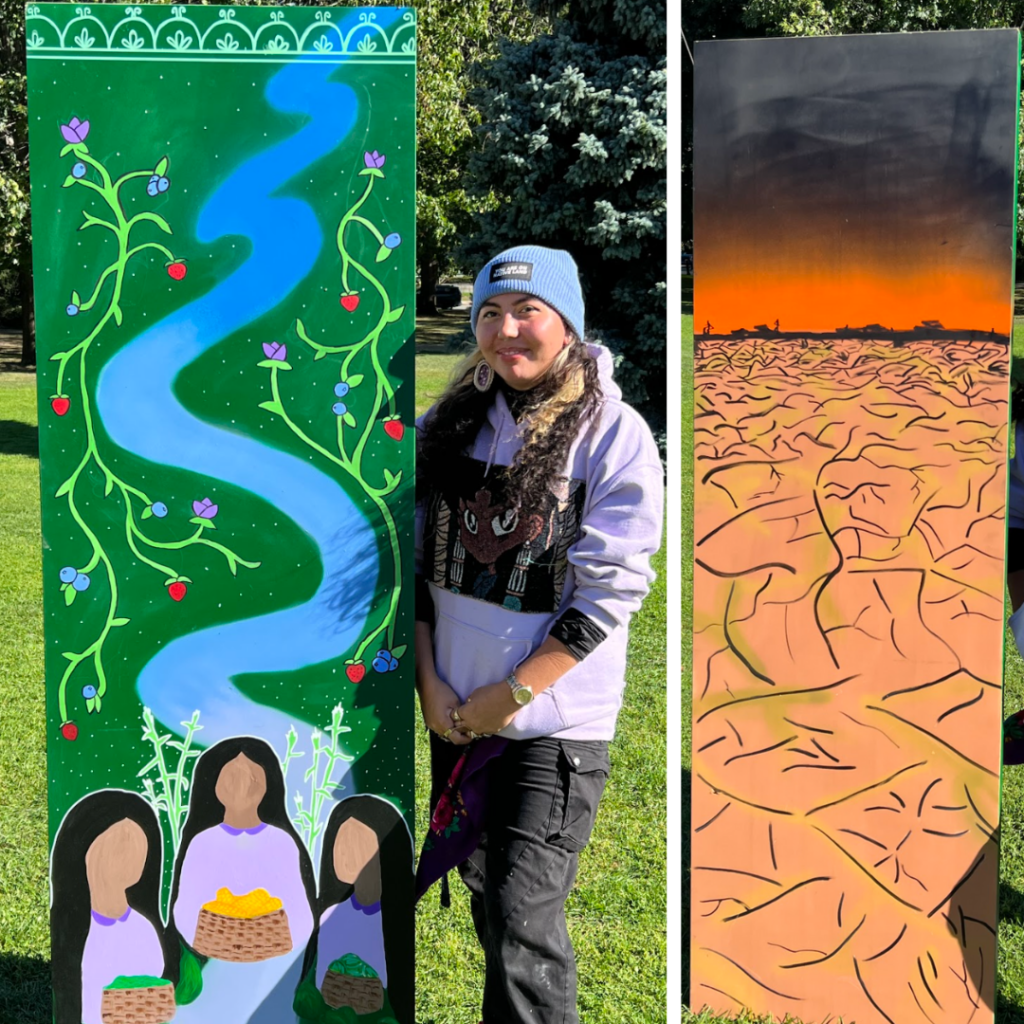 Nishina Shapwaykeesic-Loft focused on indigenous sovereignty and displayed indigenous growing practices for her piece. "The three sisters are a growing method of corns, beans and squash that shows the interconnectedness and knowledge that has been passed down. I painted florals with strawberries, blueberries along a clean waterway. There are traditional Haudenosaunee domes at the top. I always feel great to show my Kanien'keha:ka culture through art as a way of educating and representing indigenous people."
---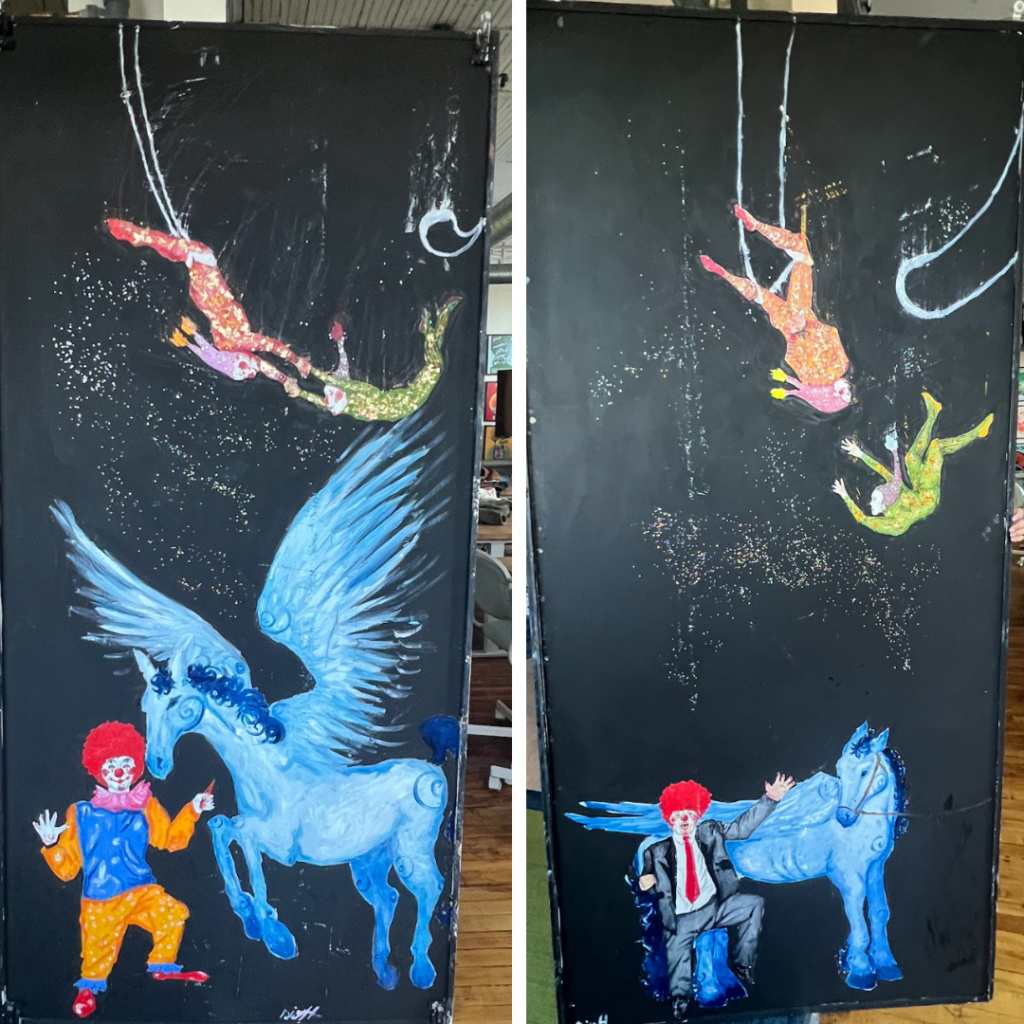 Sigfried Echo Hemming created a piece themed on emissions targets, greenhouse gas, and carbon pollution. "I wanted to illustrate this theme in a way that did not include numbers or literal imagery." Sigfried adds, "The circus setting in my art is to showcase how most, if not all, political climate targets and conversations are entirely performative. The clown represents politicians, CEOs, rich white men who have the power. The Pegasus represents nature, and how although resilient and powerful, can be halted by simple human mistakes. There could be more said, but the rest is up to the viewer to interpret."
---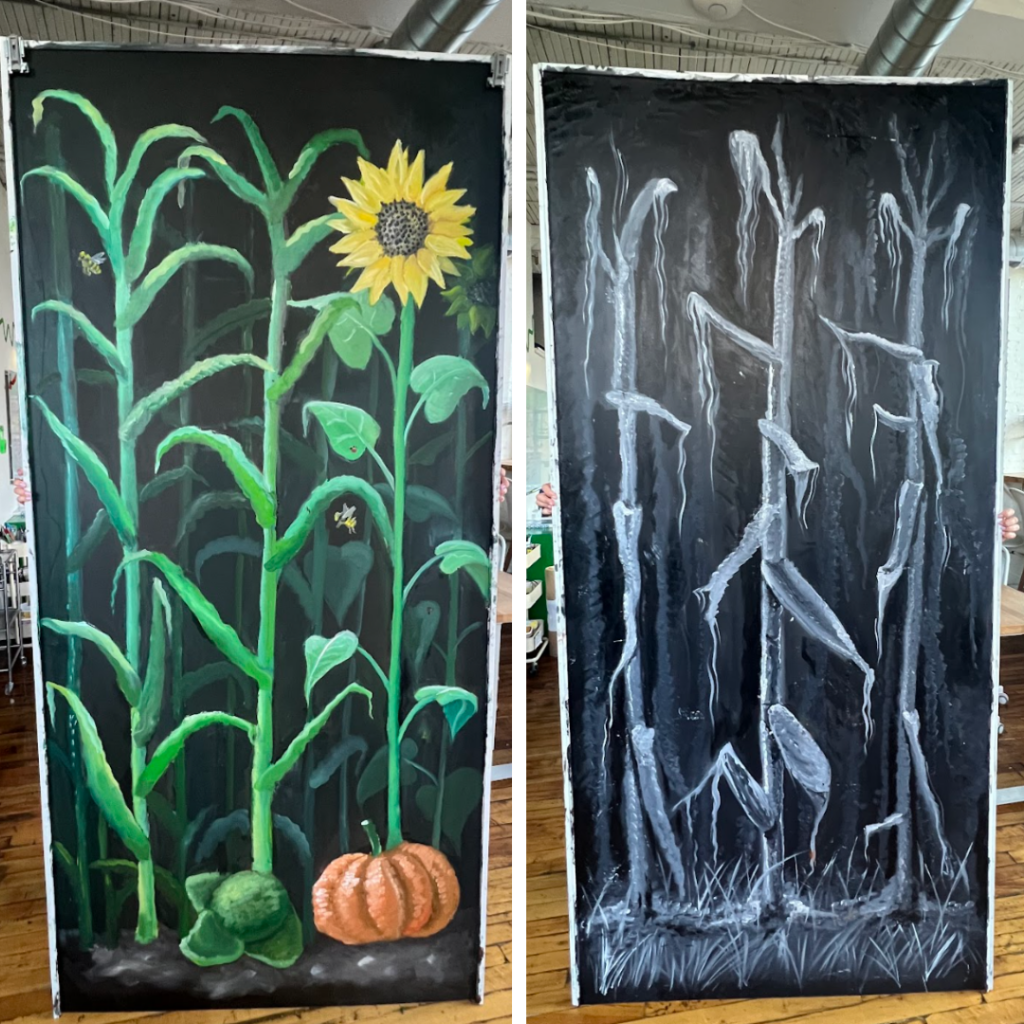 Reem Haleem created a piece themed on sustainable farming, with each side of the artwork showing a vision of a possible future. One side emphasizes the emotions of gloom, despair, and death. The other illustrates life, diversity and growth. "With techniques of regenerative farming and sustainable food practices, our world can be one full of colour and life."
---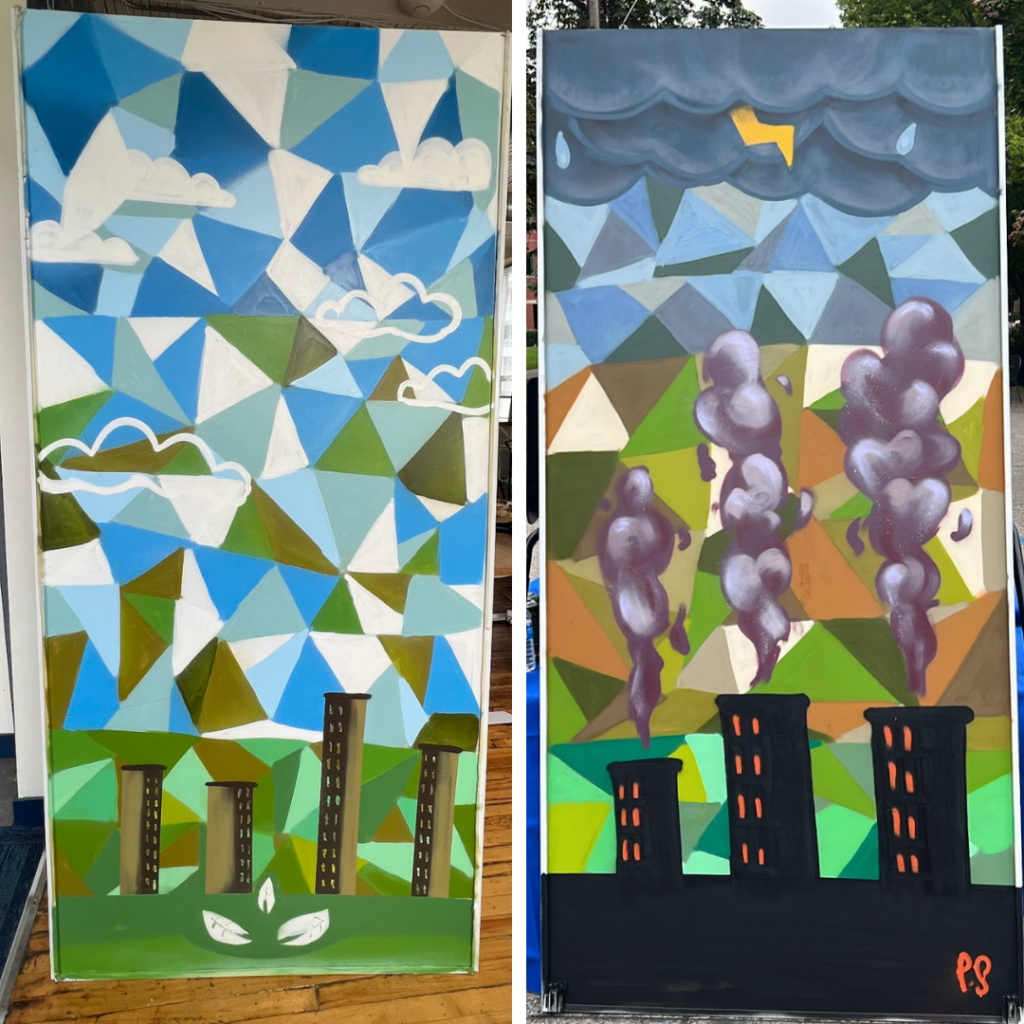 Phillip Saunders used spray paint to create a lively art piece commenting on cities and emissions. "I think it's important for us to lessen the emissions we are putting out. Many buildings are being built every year here in Toronto and the carbon footprint that is left behind is tremendous. My work depicts a world with zero emissions on one side, with an array of colours that communicate life, sustainability, clean air and a zero emission world. On the other side of my canvas is darkness that is shown by storm clouds and grey colours that represent death and decay. The apartment buildings are seen as smoke stacks emitting carbon emissions."
---