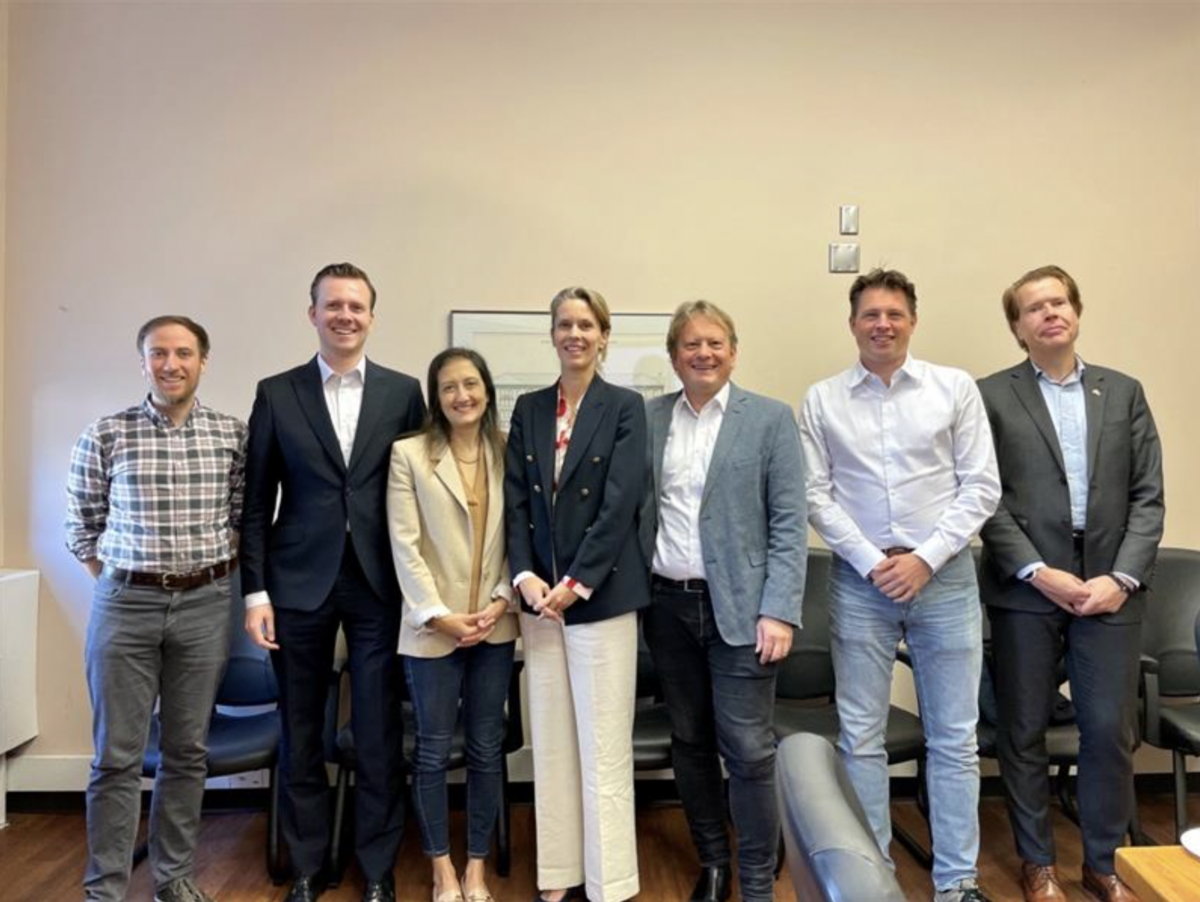 On Friday, September 15, Climate Positive Energy was pleased to host Laurenske van den Heuvel, Deputy Consul General and Head of Economic Affairs at the Consulate-General of the Netherlands in Toronto, to discuss international collaboration between the University of Toronto and the Netherlands. The discussion was focused on sustainable energy and climate change research initiatives across the University of Toronto, and how CPE activity is accelerating the University's impact towards a more sustainable future. Joining Deputy Consul van den Heuvel were Sjoerd Habing and Andrew Dasselaar from the Netherlands Foreign Investment Agency, Taake Manning, Counselor for Innovation, Technology and Science at the Embassy of the Netherlands in the United States, and Juri Roerink from the Netherlands Innovation Network.
The University of Toronto ranks second in the world and first in Canada in the inaugural QS World University Rankings: Sustainability, which assesses universities for their environmental and social impact. As an institution, U of T has undertaken several high-profile sustainability initiatives in recent years, including the creation of the Climate Positive Energy initiative.
University of Toronto's Alex Mihailidis, Associate Vice President, International Partnerships, was joined by Climate Positive Energy's Shatha Qaqish-Clavering to offer insights into how the CPE network of researchers is bringing together experts from across the academic spectrum at U of T – students, faculty, and staff with social, political, legal, scientific and engineering backgrounds – all aligning their disciplines to solve complex energy challenges.
Also sharing insight into U of T's multidisciplinary sustainability research were U of T staff and faculty, including Murray Thomson (Professor, Mechanical and Industrial Engineering), Sean Caffrey (Executive Director, The Acceleration Consortium), Swetaprovo Chaudhuri (Associate Professor University of Toronto Institute for Aerospace Studies) and Oleksandr Voznyy (Professor, Physical and Environmental Sciences).
"Climate Positive Energy is pleased to extend the University of Toronto's commitment to research excellence," said Qaqish-Clavering. "Our network of researchers studying advancements in hydrogen technologies, artificial intelligence, aerospace, and batteries are not just advancing science, but they are shaping the future of our planet through cleaner energy solutions. Meaningful discussions like these are crucial in contributing to international efforts advancing climate action. CPE is always eager to engage international delegates in these conversations as we collectively pave the way towards a more sustainable future."
Thank you to Deputy Consul van den Heuvel, as well as to members of the Netherlands Foreign Investment Agency and Netherlands Innovation Network for their contributions and insights towards this meaningful discussion. We look forward to future discussions about our shared commitments to clean energy innovation.