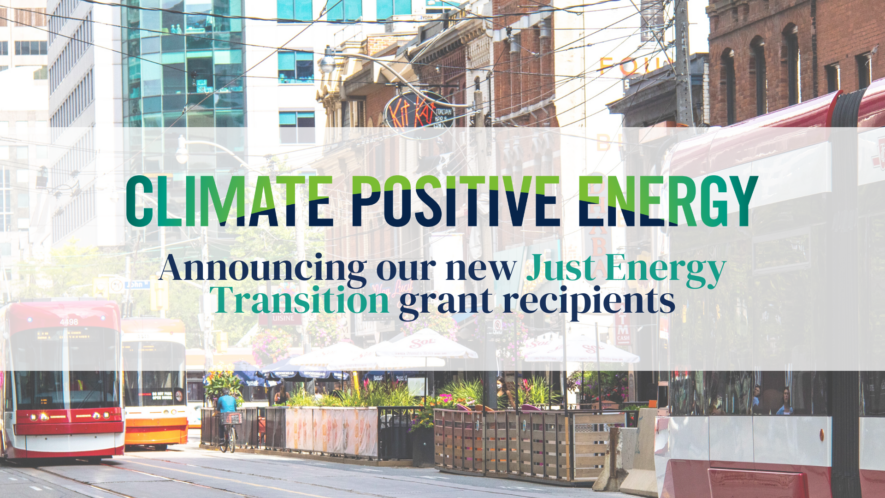 The transition to a Net-Zero future involves not only reducing our energy demands and lowering GHG emissions, but also ensuring that the adoption of these new solutions continues to serve local and global communities. Supporting research that assists the University, Canada, and the world in reaching our Net-Zero 2050 emissions goals, Climate Positive Energy is pleased to announce the funding of 6 new projects with a total of $300,000 in grants over 2 years. The projects represent 18 interdisciplinary PIs in 6 departments across the tri-campus network, and an opportunity to draw upon the interdisciplinary breadth at U of T and its community partners to investigate the social, political, economic, and climate implications of sustainable energy. We are very excited to announce the following CPE-funded projects.
---
Project: Development of a climate resilience and environmental sustainability toolkit for pharmacists
Theme: New Skills for the Decarbonized Economy
Team: Zubin Austin (Pharmaceutical Sciences, Leslie Dan Faculty of Pharmacy), Annalise Mathers (Leslie Dan Faculty of Pharmacy), Jamie Kellar (Dalla Lana School of Public Health)
Healthcare work is estimated to contribute 5.2% of global greenhouse gas (GHG) emissions, and prescribed and over-the-counter medications account for upwards of 25% of health-care related GHG emissions in Canada. As the third largest health profession in Canada, pharmacy has much to contribute to climate mitigation and adaptation, but as yet has not self-organized to prioritize this issue. This project aims to bring together a guiding coalition of educators, regulatory bodies, employers, professional associations, diverse patient groups and others to develop a pan-Canadian toolkit and model curriculum to support learning and upskilling of the workforce to develop a repository of best and promising practices with respect to climate mitigation and adaptation in pharmacy based on extant evidence, customized for the Canadian practice context.
---
Project: Exploring gaps and requirements to support more just engagement with energy modelling for building retrofits
Theme: Climate Modelling
Team: Robert Soden (Computer Science and School of the Environment), Samar Sabie (Computer Science), Steve Easterbrook (Computer Science and School of the Environment)
According to the Canada Energy Regulator (CER), buildings account for 26% of the country's overall energy consumption, with other sources citing 40% as a more realistic number. Existing buildings will be inadvertently impacted by climate change in multifarious ways, and retrofitting requires long-term energy performance simulations that consider the future effects of climate change. While powerful, computational approaches to energy transition are widely used, they ignore the differential impacts of transition policies, including the need to consider trade-offs between what is just or good from an occupant perspective, and what is optimal from an energy transition lens. This project will investigate how a modelling-based approach to energy transitions can support more equitable participation and just decision making for building retrofits.
---
Project: Application of the University of Toronto Climate Downscaling Workflow to the Just Energy Transition
Theme: Climate Modelling
Team: Paul Kushner (Physics), Oya Mercan (Civil and Mineral Engineering), Daniel Posen (Civil and Mineral Engineering), Marianne Touchie (Civil and Mineral Engineering), Karen Smith (Physical & Environmental Sciences), Sam Markolf (University of California, Merced)
Built and energy infrastructure are sensitive to the impacts of global warming and climate change, including increased cooling loads, dangerous heat waves, the potential for more powerful wind extremes, flooding that damages built infrastructure, and many other impacts. To model, quantify, and predict these impacts for engineering analysis requires "downscaling," which maps available climate information (e.g. weather station data, model output) to the requirements of engineering (site specific information, design requirements), while accounting for incompatible sampling, biases in variables, and uncertainty. This project seeks to develop and apply tools to accelerate research and applications using downscaling for engineering applications, to develop and improve upon previous downscaling approaches.
---
Project: Performance matters: Augmenting analyses of residential solar PV deployment and distribution with system performance data
Theme: Policy Recommendation
Team: Fedor A. Dokshin (Sociology)
Solar installation companies play a critical role in solar deployment: they market solar photovoltaics (PV) systems to homeowners, assess a proposed PV system's viability, and are typically responsible for processing the incentive application (in jurisdictions with solar subsidies). Despite their outsized power in the solar market, installers have received little research attention. This project focuses on the deployment of residential PV and whether the transition to solar energy is equitable, focusing attention on (1) the problem of underperforming PV systems, which may make common policy instruments, like solar incentives, inefficient, and (2) the critical role that organizations, including solar installation companies, play in the pace, efficiency, and distributional outcomes of residential solar PV deployment. Results from the proposed studies will provide actionable policy recommendations for governments to ensure that residential solar PV contributes to a rapid and just energy transition.
---
Project: Accounting for the Extractivist Footprint of EVs: A Comparative Analysis of Local and Transnational ESG Standards Governing Lithium Production
Theme: Corporate Governance and Environmental, Social, and Governance (ESG)
Team: Teresa Kramarz (School of the Environment)
Electric vehicle (EV) sales are soaring in several countries. It is one of the most visible signs of a consumer transition from fossil fuels to renewable energy sources. However, urgently decarbonizing energy use by shifting to EVs relies on intensifying global supply chains, beginning with the extraction of critical battery minerals and metals like lithium. This project will investigate how the emergent ecosystem of ESG standards and regulations is being constituted by addressing transnational standards and domestic legislation, accountability standards and actors, social and environmental requirements, and affected local and Indigenous communities.
---
Project: Assessing opportunities in carbon capture and conversion to fuel technologies for empowering Indigenous-led clean energy projects and Northern utilities
Theme: Climate, Energy and Indigenous Peoples
Team: David Sinton (Mechanical and Industrial Engineering), Michael Ross (Yukon University), Kate Neville (Political Science and School of the Environment)
In Canada, Indigenous communities are leading renewable energy development and implementation, and the North face particular challenges with seasonal energy storage. Reflecting a larger collaboration between Yukon University and the University of Toronto to explore the potential for carbon conversion technologies to support low-carbon energy transitions in the Canadian North, this project unites deep CO2-to-fuels technological expertise, engagement with Northern Indigenous community-led projects and their leaders, and expertise in environmental politics, resource governance, water, and energy.