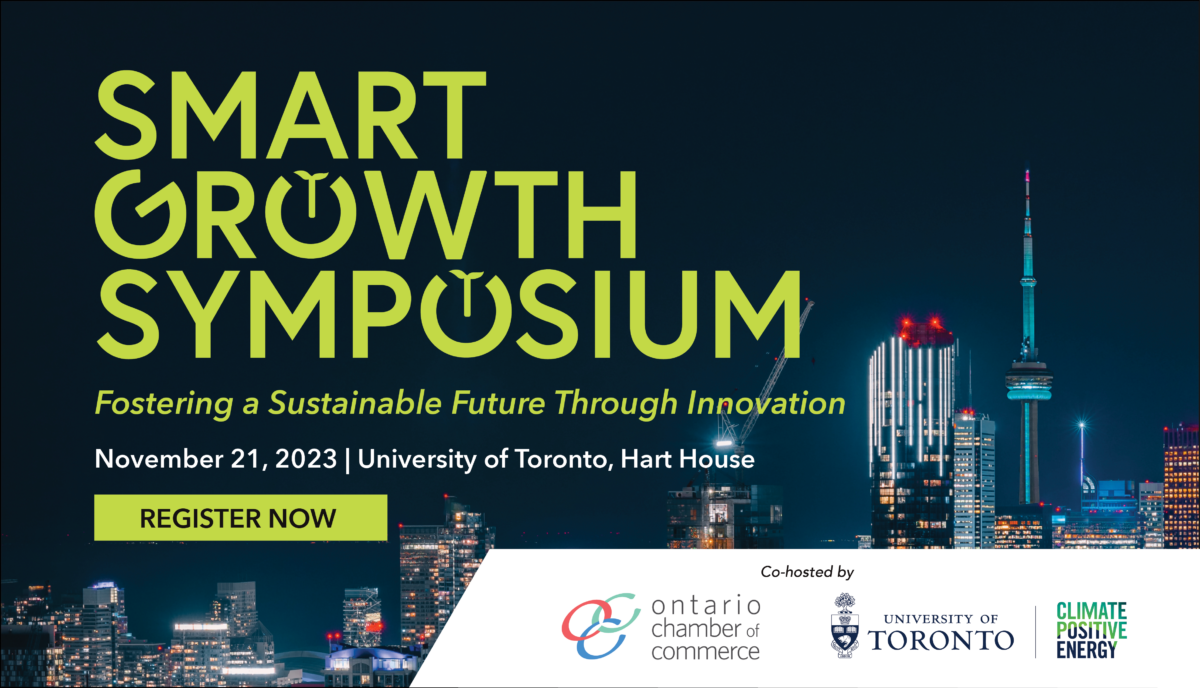 The Climate Positive Energy initiative (CPE) at the University of Toronto and Ontario Chamber of Commerce (OCC) are proud to co-host the Smart Growth Symposium, an exciting in-person event focused on exploring smart and clean technology solutions at the iconic Hart House on November 21, 2023.
"Innovation can improve the efficiency and resiliency of our economy and its infrastructure. Its adoption, however, must come through meaningful partnerships and collaboration between the public and private sectors," said Rocco Rossi, President and CEO of the OCC. "We are proud to bring this event to fruition together with our partners at the CPE. The symposium promises to highlight the value of smart and clean tech solutions that support Ontario's continued growth and prosperity."
This half-day event will feature engaging keynote speeches, fireside-style conversations, and panel discussions with experts that will explore the transformative use of technology for a sustainable and resilient future.
"The University of Toronto is excited to partner with the Ontario Chamber of Commerce to extend our impact through this symposium," said Dr. Leah E. Cowen, Vice-President, Research and Innovation, and Strategic Initiatives at University of Toronto. "Climate Positive Energy advances U of T's commitment to a climate-positive future by linking researchers around a common goal: supporting Canada and the world to achieve net-negative carbon emissions by 2050. CPE is a key institutional strategic initiative that harnesses U of T's expertise in science, social science, engineering, economics, and policy and trains the next generation of researchers that will transform our energy systems."
The event will feature opening remarks from Dr. Leah E. Cowen, Vice-President, Research and Innovation, and Strategic Initiatives, Joaquim Ballès, Vice President, General Counsel, and Corporate Secretary, Trudell Medical Limited and OCC Board Chair, and Rocco Rossi, President and CEO, OCC.
Confirmed panellists and moderators include:
Brian Kingston, President and CEO, Canadian Vehicle Manufacturers' Association
David Kamnitzer, Global Services Lead, Arcadis
David Sinton, Academic Director, Climate Positive Energy and Professor and Canada Research Chair, University of Toronto
Derek Goring, CEO, Northcrest Developments
Dima Zreik, Director – Investments, Canada Infrastructure Bank
Frank D'Andrea, Vice President and Executive Lead, Enterprise Strategy and Energy Transition, Hydro One
Harneet Panesar, Chief Operating Officer, Ontario Energy Board
Joanne McMillin, Associate Vice President Sustainability and Climate Change, Canadian Tire
Josipa Petrunic, President and CEO, Canadian Urban Transit Research & Innovation Consortium
Katarzyna Sliwa, Partner, Dentons
Nolan Andres, Chief, Technology and Innovation, Kindred Credit Union
Sabena Sandhu, Manager, Policy, Canadian Credit Union Association
Shah Nawaz Ahmed, Vice President, Grid Software and Siemens Advanta, Siemens Canada
Shakir Hussein, Director of Traffic and Planning, 407 ETR
Sharon Bollenbach, Executive Director, FIFA World Cup Hosting 2026, City of Toronto
Shatha Qaqish-Clavering, Director, Strategy and Operations, Climate Positive Energy, University of Toronto
Shitiz Agarwal, Vice President, Power Systems, Sales and Operations, Schneider Electric
Ted Salter, Executive Director, Supply Chain Consulting, Advisory Services, KPMG
The symposium will deliver invaluable insights, foster knowledge sharing, and enable participants to establish meaningful connections that will contribute to the sustainable growth, resilience, and lasting success of Ontario's dynamic economy.
Registration for the symposium is now open and closes on November 13. With limited spaces available, early registration is highly encouraged. For more information, please visit occ.ca/events/smart-growth-symposium.
Our sincere thanks to our Co-host, Climate Positive Energy, Supporting Partners, 407 ETR and the Canadian Credit Union Association, and our Contributing Partner, Northcrest Developments.
---
About the Ontario Chamber of Commerce
The Ontario Chamber of Commerce (OCC) is the indispensable partner of business and Canada's largest, most influential provincial chamber. It is an independent, non-profit advocacy and member services organization representing a diverse network of 60,000 members. The OCC's mission is to convene, align and advance the interests of its members through principled policy work, value-added business services and broad engagement to drive competitiveness and economic growth in the province.
About the Climate Positive Energy Initiative at University of Toronto
The Climate Positive Energy Initiative at the University of Toronto (U of T) is developing social, scientific, technical, economic, and policy solutions to transform our energy systems, ensure energy access and production is equitable, and help Canada become a global clean-energy model. CPE facilitates collaborative research, build partnerships, promote knowledge translation, and provide training opportunities for students and faculty. CPE also supports existing sustainable energy and climate change initiatives across the University, including U of T's Climate Positive Plan by 2050, extending the University's impact by integrating U of T's various clean energy research and training endeavours with the University's sustainable infrastructure projects.
To apply for media accreditation or for more information, please contact:
Samir Janmohamed
Policy and Public Affairs Specialist
Ontario Chamber of Commerce
samirjanmohamed@occ.ca | Mobile: (647) 882-9878