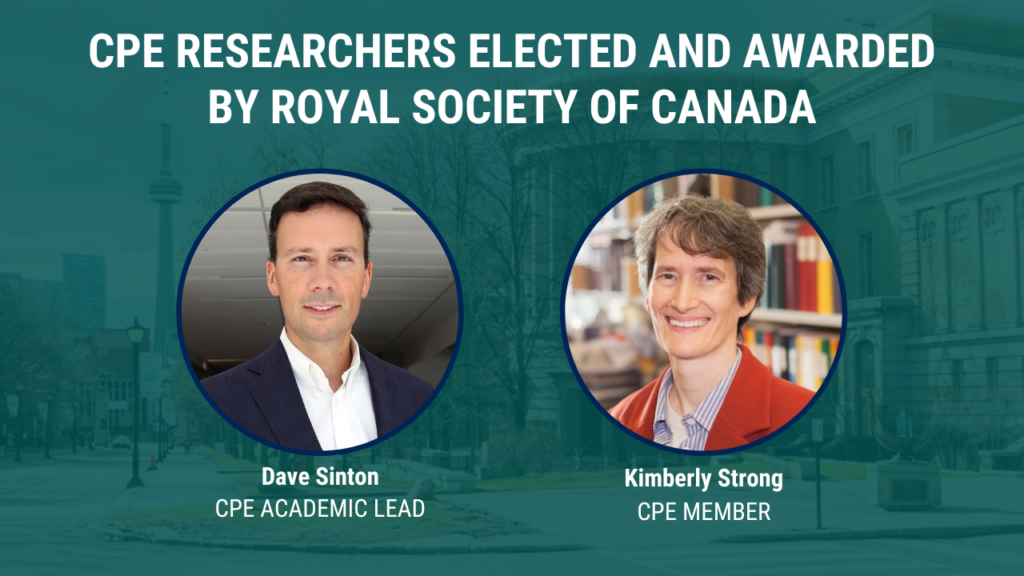 We are excited to share that David Sinton, CPE Academic Lead and professor at U of T's faculty of Applied Science & Engineering, is among eleven faculty from across the university who have been appointed Fellows of the Royal Society of Canada – a recognition awarded to the country's most distinguished scholars, artists, and scientists. Professor Sinton is a leading expert in the area of microfluidics for energy applications, and is known for recognizing the potential for microfluidics to improve methods for storing carbon dioxide underground.
"Professor Sinton's groundbreaking work in microfluidics for energy applications has moved us closer to the goal of net-zero energy generation, especially for industrial processes," says Christopher Yip, Dean of the Faculty of Applied Science & Engineering. "On behalf of the Faculty, my warmest congratulations on this well-deserved recognition."
We also extend our congratulations to CPE member Kimberly Strong, who has been awarded Royal Society of Canada's Willet G. Miller Medal for outstanding research in ocean and atmospheric sciences. Professor Strong's research has provided new insights into the physical and chemical processes that drive atmospheric change, furthering our understanding of ozone depletion, air quality, and climate.
"These remarkable researchers from an array of disciplines have made extraordinary contributions to their respective fields, helping to address some of the most pressing challenges of our time," says Leah Cowen, U of T's vice-president, research and innovation, and strategic initiatives. "The University of Toronto congratulates them on this important recognition of their research, leadership and impact."
Congratulations, Dave and Kim!
Learn more about Professor Sinton's work via U of T Engineering News.