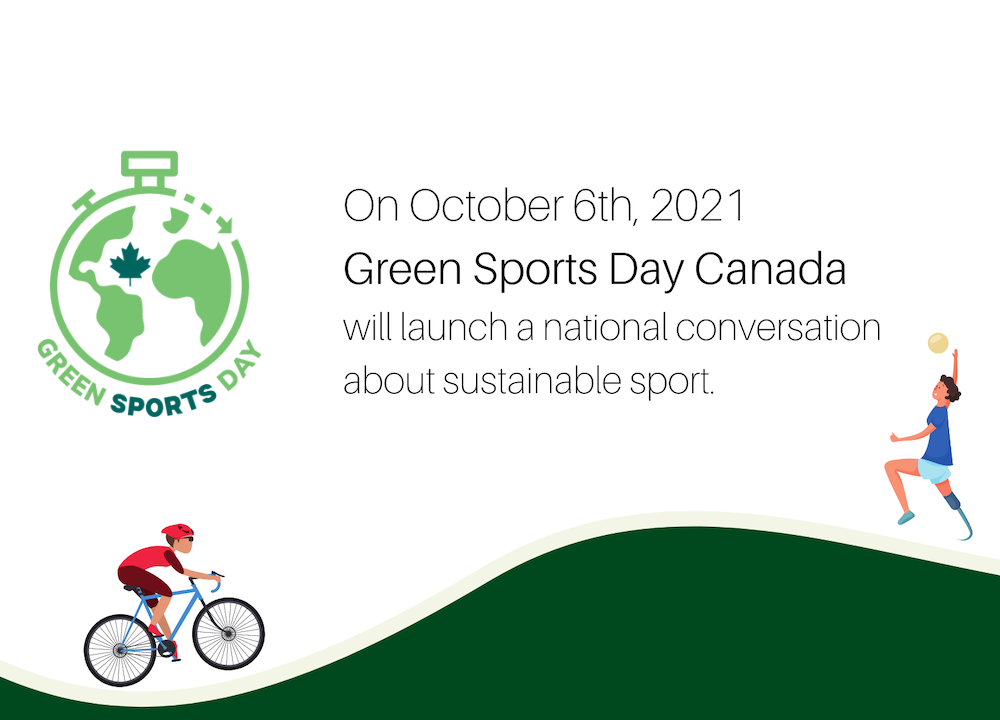 Canada will celebrate its third Green Sports Day on October 6, 2023, with the goal of harnessing the power of sport to drive positive environmental changes and unite athletes, fans, and communities worldwide to take action against climate change.
A committee of Canadian academics, athletes, advocacy groups and sport leaders have united under the banner of Green Sports Day Canada, with a vision to create a sustainable future for sports through education, collaboration, and innovation.
"We invite Canadians from coast to coast to coast to join us for a series of activations to mark Green Sports Day under the theme of 'First Steps in Sustainability'," said Gillian Orris, Senior Advisor of Sustainability and Impact with the Canada Games Council and a member of Green Sports Day Canada. "We encourage everyone to participate in these important conversations as we strive to spark positive actions within the sports sector to protect the communities in which we live, work and play."
Canadians can participate by registering for the Green Sports Day Canada Virtual Summit, a free online event bringing together the Canadian sport and sustainability sectors. Supported by the Canada Games Council, the summit will feature panel discussions from notable experts and athletes, including Olympians Oluseyi Smith, Emilie Fournel, Philippe Marquis, Melissa Humana-Paredes, Martha McCabe (Creative Destruction Lab), Donna Vakalis (University of Toronto alumna) and Oliver Scholfield. Additional organizing team members include Madeleine Orr, Assistant Professor, Faculty of Kinesiology and Physical Education at the University of Toronto, and Co-Director at The Sport Ecology Group, and Colin Campbell, Associate Director of Partnerships, Climate Positive Energy at the University of Toronto.
"Harnessing the energy of the sports community in the pursuit of climate action is a game-changer," said Climate Positive Energy's Colin Campbell. "Athletes, organizations, and fans have the potential to drive positive change and contribute to a more sustainable future, and Climate Positive Energy is pleased to extend our impact by engaging this community in the clean energy transition."
"As athletes, we have seen firsthand the effects of climate change and its impact on our ability to train and compete at the highest levels," said Olympian Oluseyi Smith. "The sport sector contributes its fair share of emissions and waste, but we want to be a part of the solution through more sustainable sport practices. We know the power of sport can be a catalyst for change, and we firmly believe it can champion climate action."
Students in elementary schools across Canada can also get involved through an online lesson with Olympians and Paralympians to learn about Green Sports Day, supported by Head-to-Head and Logics Canada.
Finally, city skylines across the country will light up green as venue partners participate in a glow-up to raise awareness for Green Sports Day and promote sustainability in sport.
For more information about Green Sports Day Canada, please visit greensportsverts.ca.
About Green Sports Day Canada
Driven by a volunteer committee of dedicated sports professionals, academics and athletes, Green Sports Day Canada aims to educate the sport sector on climate, advocate for more sustainable sport practices, and enact change across the sector by inspiring organizations and athletes to get involved.
Media Contact
Courtney Pollock
Senior Advisor, Communications and Digital Media
Canada Games Council
Email: greensportsverts@gmail.com